A computer can be operated freely in the web if it can communicate well with the router, which in turn is possible only through a valid IP address. The NIC or Network Interface Card is connected to your modem or router through the Ethernet cable and is responsible for obtaining a valid IP address. All of the mentioned interfaces are co-dependent on each other.
If your encountered a unknown issue that says: Ethernet doesn't have a valid IP configuration, don't worry, this error  indicates we have problems in our Network Interface Card. In some cases, if router or NIC becomes faulty or when the designated IP address is wrong, then an error occurs. This article provides a solution to various problems related to IP address configuration.
#1. Disable Fast Startup
Sometimes, Faster startup features will close some Ethernet supporting services automatically int the background, and this will cause the Ethernet doesn't have a valid IP configuration error. To fix this error, we can try to disable Fast Startup firstly.
Step 1. Go to Control Panel by typing "control panel" in the search bar next to the Windows icon and then clicking on it. Search for "Power Options" under Control panel and then click on it to display its contents.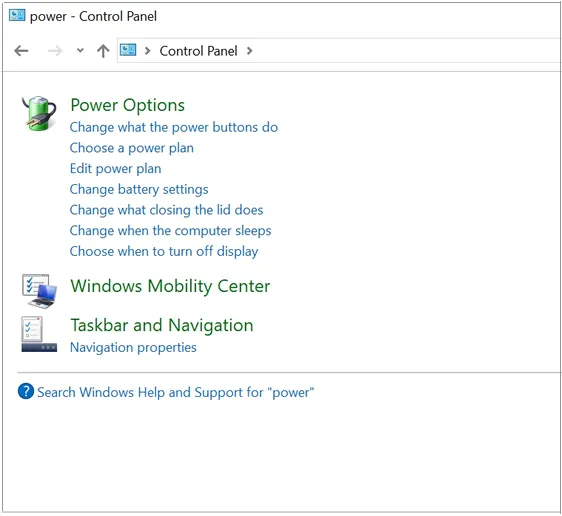 Step 2. On the left side of the navigation, select "Choose what the Power button does" and under the menu, select "Change settings that are currently unavailable".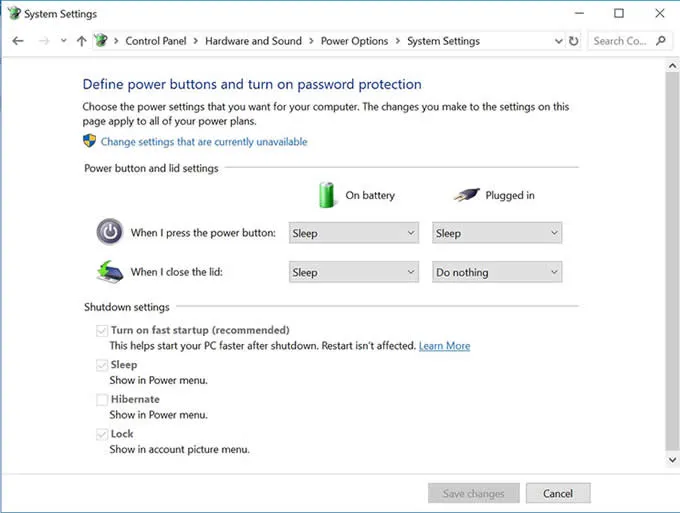 Step 3. Uncheck the box next to "Turn on fast startup (recommended)" to turn off Fast startup of Windows and then click "Save changes". Now, Reboot the computer for the changes to take place. This method might help you with fixing the error.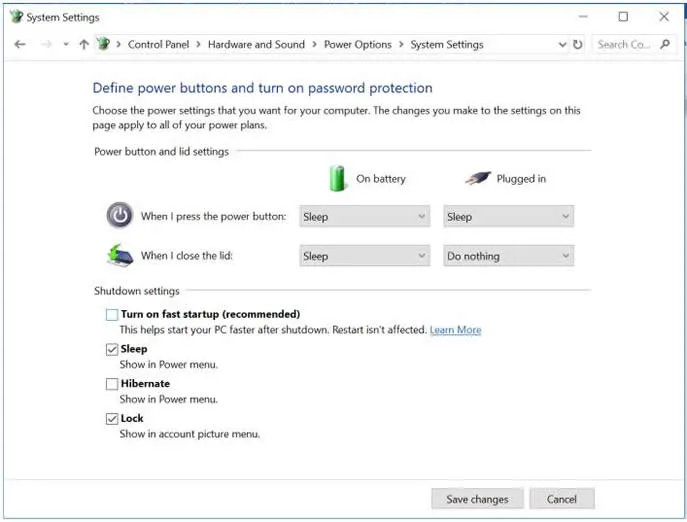 Method #2: Reinstall IP/TCP
PassCue for Windows is one of the fastest and finest windows password resetting tools. Unlike other password resetting tools, it actually bypasses or rather to say, disables the password protection feature from the locked system and enables the user to access the admin account without any difficulty.
Step 1. From your keyboard, press the Windows logo key and X together simultaneously. Select "Network connections" from the displayed list.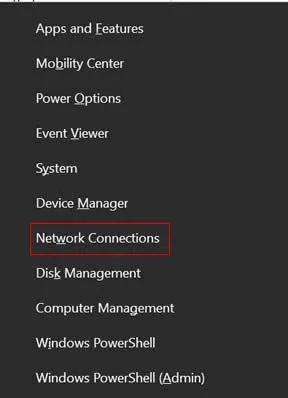 Step 2. Right-click on the network adaptor that you have been using and select "Properties".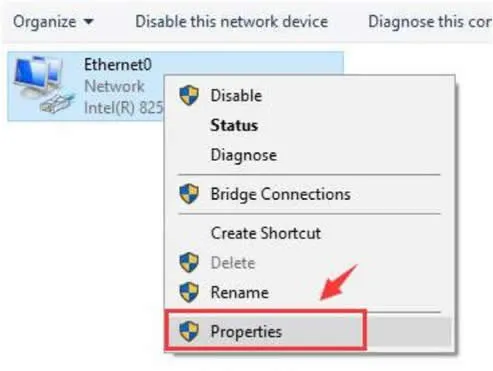 Step 3. Under the "networking" tab, click on "Install.."
Step 4. Select "Protocol" and click "Add..". In the next step select "Reliable Multicast Protocol" and click "OK" to install the protocol.
Now, reconnect your Ethernet and check if the problem is solved.
Part 3 : Reinstall The Driver Of Your Ethernet Network Adapter
If all the methods above don't fix the error Ethernet doesn't have a valid IP configuration error on your Windows computer', then it may be the problem with driver of your Ethernet network adapter, sometimes most users are unaware of the corrupted or incompatible driver could lead to many errors including this one.
Step 1. Press Windows + X and type hdwiz.cpl and click OK. Or choose the Device Manager option from the menu.
Step 2.Then locate the Network Adapters and expand it, select the name of your network card.
Step 3. Right click on your ethernet card (nic) and select update .
Step 4. Then you will be required to choose from source to install your driver.
-- Search automatically for updated driver software.
-- Browse my computer for driver software.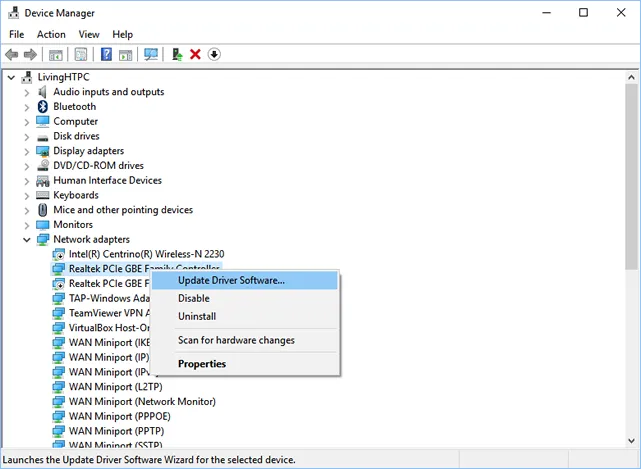 Besides, you can download the latest version of the driver from the manufacturer's website and then install it again.
Part 4: Disable IPV6
Windows computer generally  uses IPV 4 for establishing connection, however, in some cases your network settings may be reconfigured automatically to run on IPV6 configuration, which may lead to some unknown conflict with the connection. So, disabling IPV 6 could solve lost of issues for users, this method will tell how to disable IPV 6 using regedit.
Step 1. Just type "regedit" in the search box and press enter key.
Step 2. Expand the registry tree to this location:
HKEY_LOCAL_MACHINE\SYSTEM\CurrentControlSet\Services\TCPIP6\Parameters.
Step 3. Right click the blank area and create a new value of DWORD (32-bit) Value". Give a name DisabledComponents to this new Value.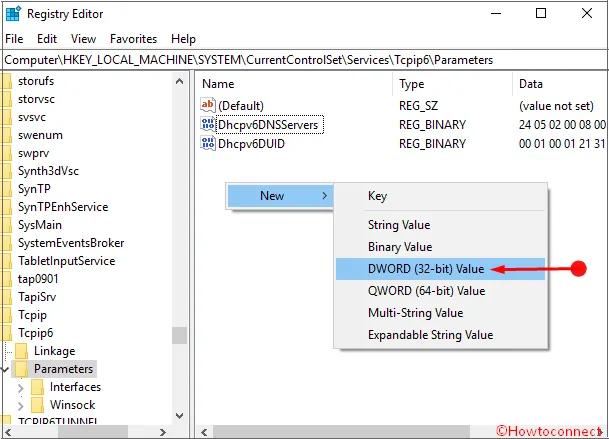 Step 4. Right click the new value "DisabledComponents" and select Modify option from the menu, then type ffffffff in the pop up box, and click OK, then reboot your computer and confirm if you've disabled IPV6 successfully!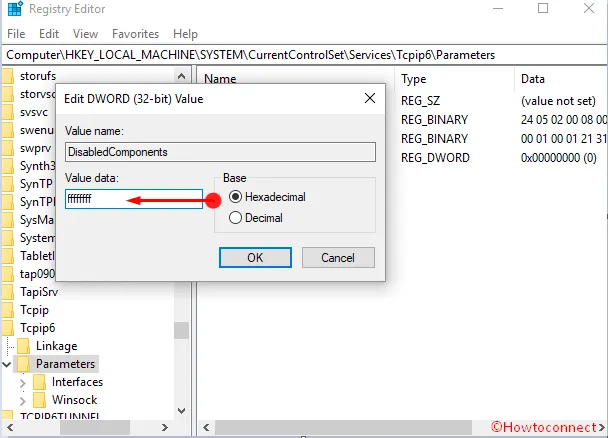 Part 5: Disable – Enable Network Adapter
Network adapter  is an core component in your computer that connect your PC to your network, connects your PC to your local network, and thus the internet — sometimes you may need to disable it. Sometimes it may cause an error Ethernet Doesn't Have A Valid IP Configuration issue in Windows 10, so, why not try disable and then re-enabe the adapter to fix this issue?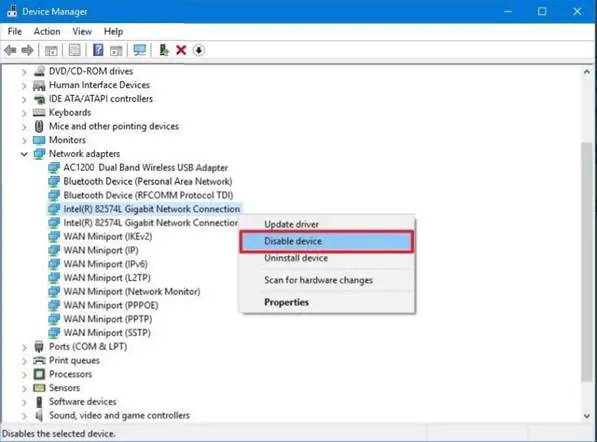 Step 1. Open Start. Search for Device Manager, and click the top result.
Step 2. Expand the Network adapters category.
Step 3. Right-click the adapter you want, and select the Disable device option, then enable it again.
Part 6: Clear Network Cache
Cleaning the DNS cache can help resolve network connection related problems in Windows 10. If you encounter a large number of error including Ethernet doesn't have a valid IP configuration Error, you can try to clear your DNS cache to fix issue. After your DNS cache is cleared, your computer will reconfigurate a new DNS automatically after you reboot computer.
1. type 'command' in the search box of start menu.
2.Right click on Command Prompt from search results menu, make sure you're running as Administrator.
3. Type the commands below, and press Enter after each: 
ipconfig /release
ipconfig /flushdns
ipconfig /renew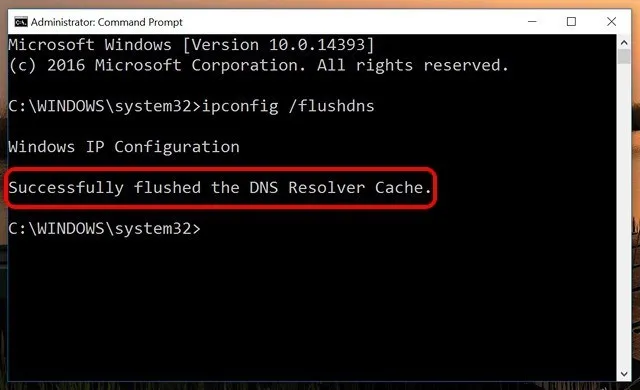 As you know there are many known or unknown reasons cause to the "Ethernet doesn't have a valid IP configuration" error. We hoe the method in this article was helpful and you're able to fix this error. If none of the methods solved your error, I'm afraid you need to contact your Internet Service Provider (ISP) and check if there there is a problem with it.