Getting locked out of your very own computer is one of those issues which are confronted more than 90% of computers users on a daily basis. According to statistics of latest survey, the number of users forgetting system password is increasing day by day as the advancements in technological fields have given way to more complications in remembering more passwords. Thus in the middle of so much chaos forgetting a password is quite an obvious issue. So, are you looking for an effective way to unlock Windows 10 passwords laptop safely?
Now the question is if you ever run into a similar situation where you are completely locked out of your system and are unable to access any of the documents and files stored within the system, then there are few basic methods which can be implemented in order to overcome the ordeal. The ways are described in detail below in the article to help you unlock windows 10 computer without password.
Method #1: Unlock Windows 10 Password Laptop with TRK
TRK or Trinity Rescue Kit is an old and popular windows password resetting utility which is still preferable by many users for its authentic performance. To know how it unlocks Windows 10 laptop password, check out the steps articulated below as follows:
Step 1. Get your software downloaded from internet and install the setup file from it with accurate precision to avoid any mishap.
Step 2. Plug your loaded bootable disk into the computer with your locked admin account and a new TRK menu would emerge up like the one shown in the following screenshot: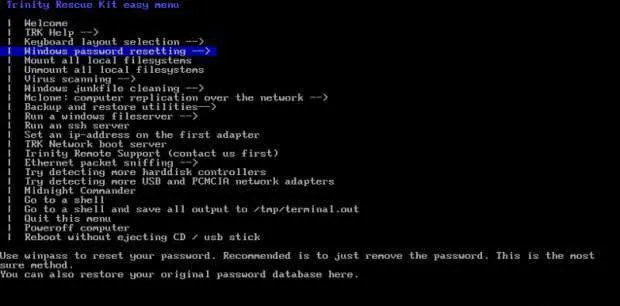 Step 3. Select the "Windows Password Resetting" option form the list of options available and press "Enter" to continue.
Step 4. Now; press up and down arrows to select "Winpass prompts for username first" and provide all your account details like your user profile name which is recently locked.
Step 5. The program will fetch the operating system details all of its own accord. Simply press "1" key to remove the password feature from your computer.
CONS:
1) The process would take several hours to unlock Windows 10 password depending upon the complexity of the password.
2) It is a complicated procedure for those who are new to using password recovery tools.
3) Not support UEFI-based computer.
Method #2: Unlock Windows 10 Password with PassCue
If you seriously wish to unlock Windows 10 Laptop password without any setbacks which are bound to deal come no matter what alternative you choose for the issue, better try out this efficient tool called PassCue for Windows software. It is a reliable, sufficient program that helps to bypass your lock screen password altogether without the need of reinstalling your Windows OS all over again. Thus there is no loss of stored data off your PC.
It simply assists you to create a password reset disk so that you can use it to unlock Windows 10 laptop without password again. The mechanism behind the task is that it simply deactivates the SAM files accountable for the lock function and thus manipulates the system to bypass the lock screen. It will also remove the lock screen prompt feature altogether. It is functional with all Windows OS, be it XP/ Vista/ 7/ 8/ 10 and removes all types of accounts, that is administrator account, local user account, domain and Windows server account password.
Step 1

Download and Install It on Another Working Computer

Get the program file downloaded on a working computer and installed with correct installation procedures. Here we're using a Windows 10 to make a reset disk. Open the program with admin privileges,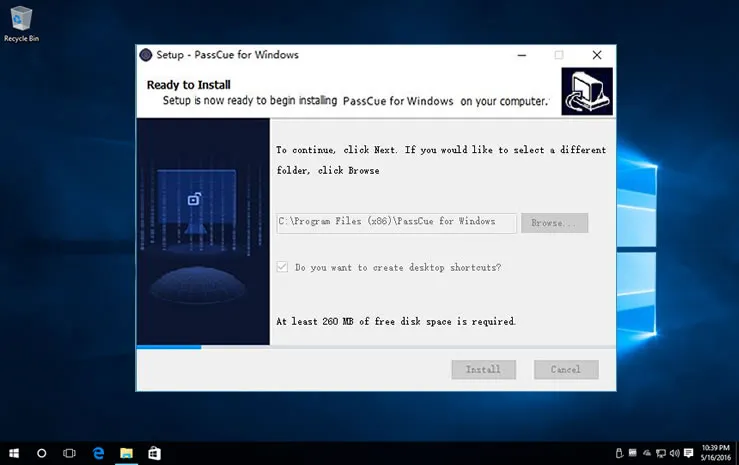 Step 2

Create a Bootable Password Reset Disk

Plug in the USB drive or DVD/CD into the functional computer and click on "Burn USB" button to start burning the ISO image files into the bootable disk. Upon completion, it will notify with a message "Burning Successfully!". Click "Ok" to finish the process.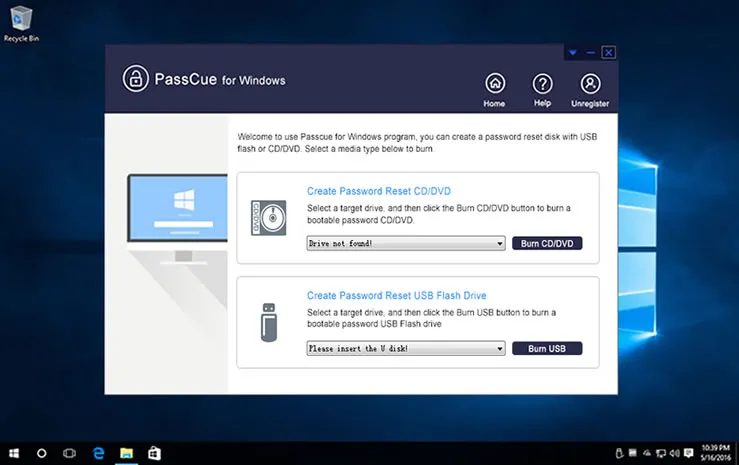 Step 3

Set Your Locked PC Boot from USB Drive

Eject the disk and re-insert it into the locked computer. Choose your bootable disk as the first priority drive from the Boot Menu settings or BIOS utility settings to load the ISO image files into the locked computer. You can press the F2, Del or F8 key to enter BIOS.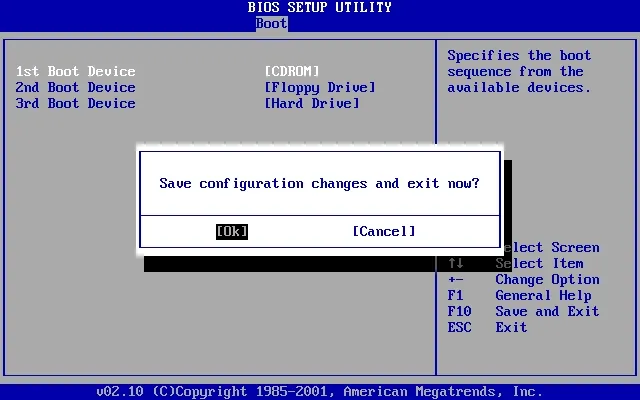 Step 4

Start to Unlock Windows 10 Laptop Password

Once you have done this much, reboot your computer and you will notice it will boot from USB or DVD. Then the PassCue will be loaded and shows your Windows and users, then select your account and click on "Reset Password" and "Reboot" options one after and another.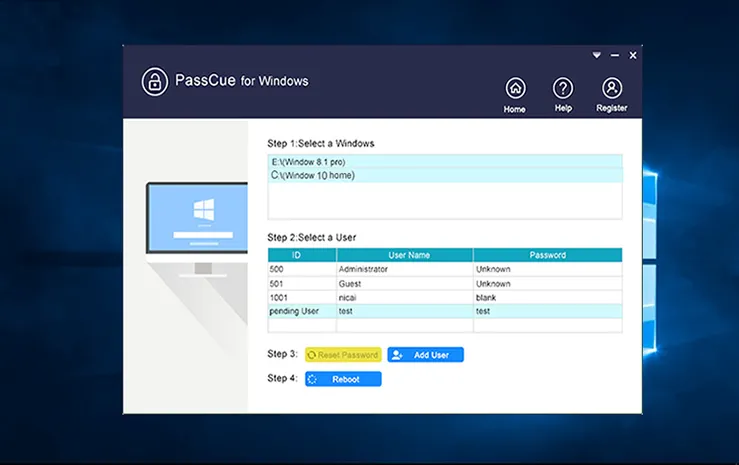 Your computer will take a restart to apply for the changes and once it's done you will be able to access your locked PC without any password prompt. is not it simple? Now, you can click the button below to download the PassCue program to unlock Windows 10 computer forgot password 
For Windows 7 users: 4 Ways to bypass Windows Login Password without Losing Data
Method #3: Unlock Windows 10 Laptop Forgot Password with John the Ripper
Here in this approach we would put to use John The Ripper utility in addition with Pwdump3 which facilitates the functionality of the former one. Though the procedures might seem to be complicated, but it is very effective in scanning system diagnosis and resolving it immediately. In this method, John The Ripper basically recovers the passwords, while Pwdump3 helps in extracting password hashes from the SAM directory of the OS. You can follow the steps below to unlock Windows 10 laptop forgot password.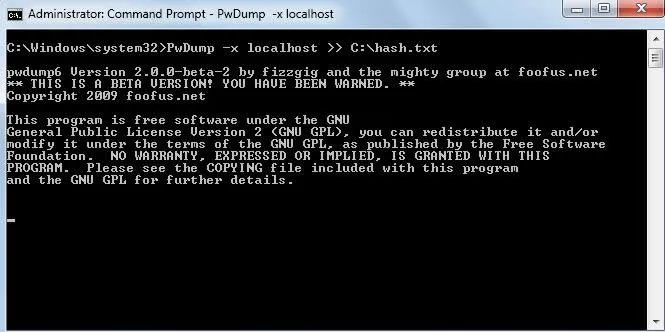 Step 1. Try to create a new directory and save it as "Passwords" name in the root of your Windows C: drive.
Step 2. Now download a decompression tool to get compressed files of large programs if you don't have one, like Win ZIP or 7-ZIP.
Step 3. Next download, extract and simply install the two freeware tools and install them adequately into the newly created directory.
Step 4. Provide the following command to run pwdump3 tool and relocate its output to a file labeled as "cracked.txt":
c:passwordspwdump3 > cracked.txt
Step 5. Launch and run the John The Ripper software by inputting the following command against the operating system's SAM password hashes to execute the recovered passwords:
CONS:
1) It is a very complicated process.
2) Not support UEFI-based computer.
3) Does not work with Windows 10 versions with 64-bit
Method #4: Unlock Windows 10 Laptop Password from SafeMode
In order to get into Safe Mode to unlock Windows 10 laptop forgot password, you must first enable default the Built-in Administrator account if it won't appears in the Safe Mode. Here we assume that you've enabled Built-in Administrator before forgetting password, you can easily get the control and remove the login password in Safe Mode without losing data.
Step 1. Reboot your locked PC and press repeatedly press F8 while the computer boots up, you will enter the Advanced Boot option like this.
Step 2. Use the arrow keys to chose the "Safe Mode" and press "Enter." Your computer starts in Safe Mode.
Step 3. Try to click the Admin account in the login screen, just enter the password instead of leaving blank. If you forgot the account password, you have to reset with professional Windows password Recovery.
Step 4. Enter the "All Control Panel Items" from Start menu, then click User Accounts"
Step 5. Now, choose the account which you want to unlock the password, and click "Change your password" in the box.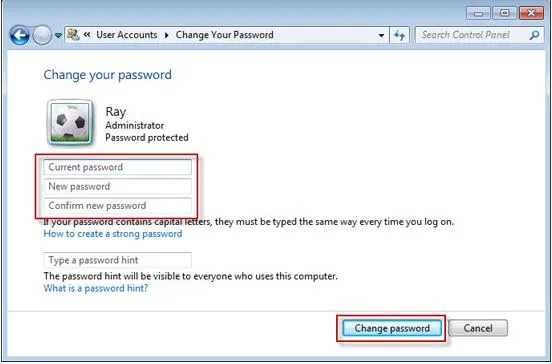 Now, the password was removed and you can login your locked PC with new password.
Method #5: Unlock Windows 10 Laptop Forgot Password with Disk
In Windows 10 device, there is "create Password Reset" option in the control panel to help help users make a password reset disk. When you're locked out of Windows 10 then it can be directly used to unlock Windows 10 laptop forgot password. However, this password reset disk must be pre-created before the password is forgotten.
Step 1. In the login screen, when yo type the a wrong password you will get a message "Password is incorrect, try again", then "Reset Password" link will appear.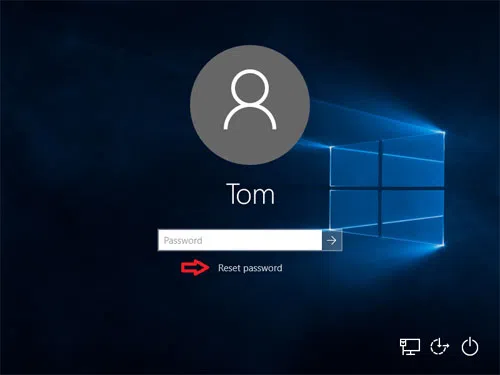 Step 2. click the link to open Password Reset wizard. Then insert your password reset disk and then click on Next.
Step 3. Select the password reset disk in the dropdown list, and click on Next.
Step 4. Type in your new password and password hint then click on Next.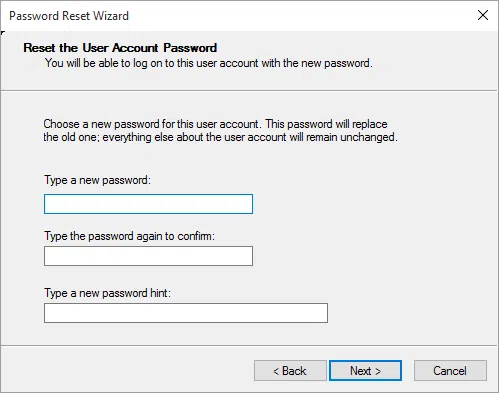 Step 5. click the Finish button to close the password reset wizard.
Final Words:
Forgetting password is as common as making a password. Moreover if you have not been using your particular account for a period, then it is quite obvious for human instincts to lose it to oblivion. PassCue Windows Password Recovery tool can be considered as a super-easy tool to unlock Windows 10 computer forgot password and is very efficient with almost all brands of Laptops, for example, TOSHIBA, Lenovo, Dell, HP, Sony, etc. whereas other third-party softwares are not that flexible with different laptops. Thus it is most recommended and preferable over other tools. The other methods would definitely resolve your issue, but would often end up with some disadvantages,