Skype is communication software that allows you to do free voice and video calls. You can use Skype to video call and voice call with anybody from around the world. You could also exchange images and audio files on Skype. But in the recent versions, most users complain that Skype was automatically added to Startup after updated and there is no way to disable or uninstall it. In the meantime, you will also be puzzled to find the Skype App running continuously in the background and taking up almost 40 percent of the CPU resources even when not in use, then you will find your computer running slow and not responding. Why Microsoft have forcing users to use unused App and force to sign in Skype account all the time, like forcing to update Windows 10. we guess Microsoft want to maintain a certain userbase for their product and make it more valuable. Somebody say this is to ensure your device is always in a state of readiness to receive messages, calls or others from your friends.
However, you might not want to have your Skype application running all the time and not want auto-start of Skype when booting your computer. Have a look at the following solutions, maybe it works for you.
Check Which Skype Version You've Installed
Basically, Microsoft provides 3 different version of Skype to choose from based on your demands. Each version has its own way of stopping auto-starting and keeping running in the background on Windows and Mac.
Part #1: Stop 'Skype Desktop App' from Starting Automatically
Skype Desktop app is  a traditional Skype application which is only available for Windows 7, Windows 8 and legacy versions of Windows 10, when you try to install the Skype Desktop app on your computer, the installer will tell you to use the Skype UWP app instead. After you installed it, you will find Skype app will be booted up automatically with your computer, it forces to sign you into your Skype account, if you doesn't want login it, then you close it, but it will hide itself and put an icon into the system tray, and keep running in the background on your computer.
Follow the steps below to stop Skype Desktop app from starting automatically on your Computer.
Step 1. launch the Skype Desktop app, then login your Skype account.
Step 2. Navigate  to Tools tab and click Options in the drop-down menu like below.

Step 3. In the Options Window, select the General Settings in the left panel and you should see Start Skype when I start Windows on the right side. Then check the box and save.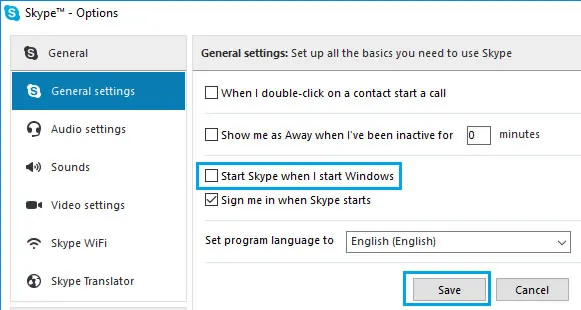 If you have everything set up correctly, reboot your computer and Skype app should not be started Automatically on your Windows Computer. It will only open when you click Skype shortcut.
Method #3: Stop 'Skype Preview' from Starting Automatically in Windows 10
Skype Preview is included as a part of Windows 10  and forces users to login Skype account. In the new recent update on Windows 10, you will find you can't control it, it doesn't work even if you turn off notifications for Skype in the Settings. When yo sign-in your Skype account, it will keep logining even after rebooting your computer and keep running in the background. This simply means  that the Skype Preview app will be started automatically with your system.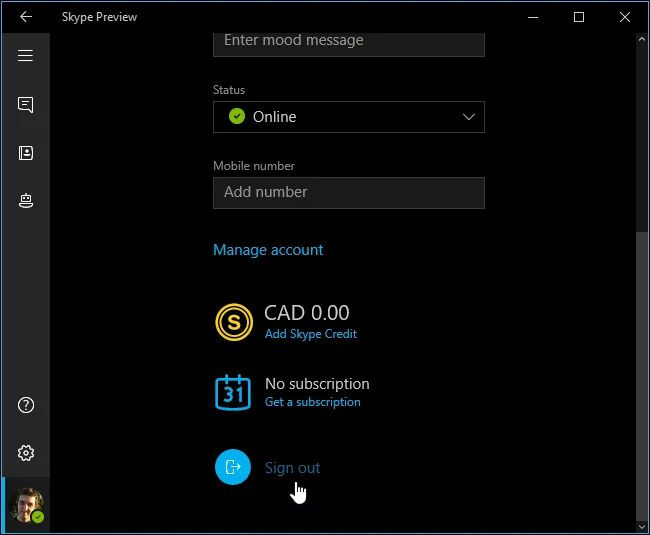 Step 1. Start your Skype preview app on your computer, then Left-click on your profile icon (the bottom left corner)
Step 2. 4.Scroll down to the bottom of your account screen and find sign out option, then click it to sign out your Skype account.
#4: Stop 'Skype for Business' from Starting Automatically in Windows 10
Skype for Business is a powerful collaboration tool and seriously eats too much memory and CPU resources. Needless to say, you don't expect  it to active all the time on your computer. If you want to stop Skype for Business from starting automatically on your Win 10 computer, follow the steps below.
Step 1. start your Skype for business application on your PC, then sign in your Skype account.
Step 2. Find the little Down Arrow button and click it, then unfold the drop-down menu and select Tools, then click Options.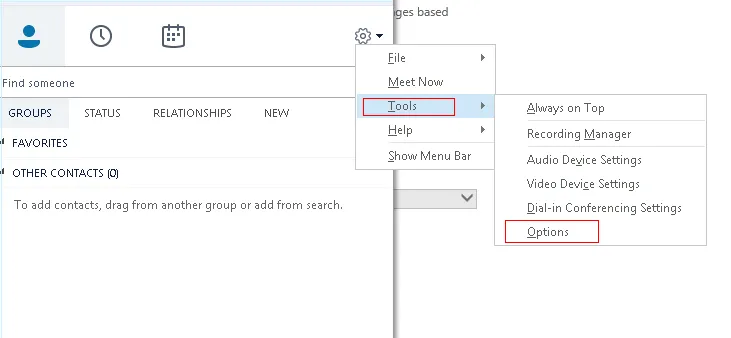 Step 3. When Options windows opens, locate the Personal tab in the left side, then Uncheck Automatically start the app when I log on to Windows. Then click Save button to save your settings, then reboot your computer and you will find it Skype for business app will not be started Automatically.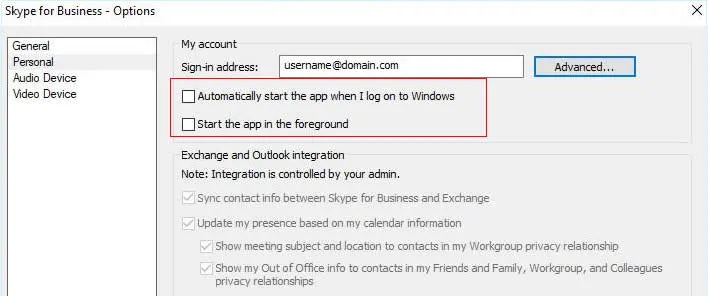 #5: Stop Skype from Starting Automatically on Mac OS X
Unlike Windows, there are many ways to disable or stop Skype autostart on a Mac OS X because of Ma OS is a close system. The simplest and fastest way is through  Dock.
Step #1. Launch Skype on your Mac, then Go to the Dock.
Step #2. Right click on Skype icon in the Dock while holding Ctrl key. A menu will expand with some options.
Step #3. Uncheck "Open at Login" option. Next times, when you start your Mac OS, you will find Skype not start Automatically with your Mac.

#6: Other Solutions Collection
However, there are many unknown reasons can lead to invalid results although  you've followed all the steps correctly. Here we collect many solutions that works for you.
1) Exit instead of just clicking the X to close Window ( Works
Sign in your Skype account, then go to Settings > Tools > Options and uncheck the startup option. Then go back to the Main Settings and click File, then  right click on the icon in your system tray and exit the application. Don't directly click X to close your Window, then it never appear again. 
2) Windows 10 Skype UWP
Launch Task Manager > Select "Startup" tab > locate Skype, right click and choose Disable, then restart. Now it will not auto-start at next boot on Windows 10.
3) Kill the Task in Processes
After you did all steps in the above, finally, don't forgot to kill the Skype task (SkypeHost.exe and SkypeApp.exe) in the processes tab of the Manager, then restart your computer and check if it start Automatically with windows.
4) Delete shortcut file
In your computer, locate the following address:
C:\Users\[your username]\AppData\Roaming\Microsoft\Windows\Start Menu\Programs\Startup directory.
If you can open it correctly, you should see shortcut file for Skype. Try to deelte this shortcut file, but we suggest you to first backup it in case this method not working. Then the auto-start should stop, just restart your computer and check if the Skype starts Automatically.
5) Unable to Disable New Skype on Startup
If you're unable to disable Skype on startup on your Windows 10, don't worry, you can  run powershell as administrator to disable or uninstall Skype.
Get-AppxPackage *skype* | Remove-AppxPackage