A good dusting every alternate day, a hard drive clean up every month and defragmenting your disks helps you maintain the performance of the computer. Sometimes we forget that the temperature of a core part that plays a far more important role in its performance than all these others things mentioned above - It's CPU.
CPU handles all instructions and complete all calculation it receives from hardware and software running on the computer, this makes CPU temperature increases quickly because of  high-speed data processing. So, CPU must be covered with heat sink to keep it cool. When the CPU gets hot, it will lead to descend of system's performance due to heat, also the continuous hot of CPU will impact the stability of computer, it may cause your computer to BSOD, freeze, or even shut down or restart itself. So it's a good habit to regularly check or monitor your CPU temperatures. Here, we carefully choose top 4 best free CPU Temp Monitor software for your choice, each of them provides different temperature monitoring strategy and personalized Settings, makes it so easy to check your CPU temp in windows 10.
#1. Open Hardware Monitor
Open Hardware Monitor is a nice CPU Temp Monitor utility that is specially designed to monitor CPU temp in real time through  temperature sensors. The latest version is fully compatible with most mainstream hardware monitoring chips in today's mainboards. It can directly detect and display the core temperature of Intel and AMD CPU, Video Card and memory card and hard drive.
Step 1. Got to https://openhardwaremonitor.org/ . Download Hardware Monitor and install it on your computer.
Step 2. Run it, and the HardwareMonitor will start showing the temperature of your Laptop along with other necessary details.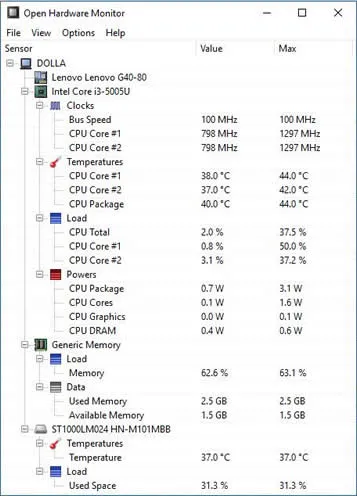 #2: Core Temp
Core Temp utility provides you a plenty on temp information about CPU, and motherboard. It can monitor the temperature of the CPU without mixing other thing. The most unique point is the way how it works, it can be able to display the temperature of each core of every processor  with precision and you can see the temperature change in real time.
First of all, go to Core Temp site and download it on your Windows computer, then install it. But this free CPU temp monitor is full of ads which may make you feel bored.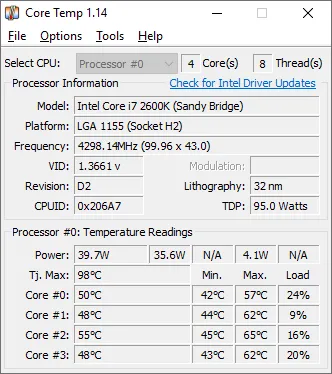 After installing it, just run it. And you will see Core temp displays all information for  CPU core temperature, CPU model, frequency and system voltage. You can set your maximum CPU temperature so that you can be informed to take a quick action once the computer temperature goes high,this program provides multiple options, either put system to sleep, hibernate or shut down.
#3: SpeedFan (Free)
Speed Fan is a free program specially designed to monitor and display temperature for chips and other various important information about your CPU box. This program can intelligently manage and adjust the temperature of CPU to enable everything running smoothly. In other word, if temperature goes high, Fan speed will increase to cool it down automatically. Like other programs, it also has a Alarm option that notify you when the temperature reaches the maximum. But this program's official site is too old and didn't update for a long time, the program also doesn't upgrade. but it is a lightweight application and is easy to use.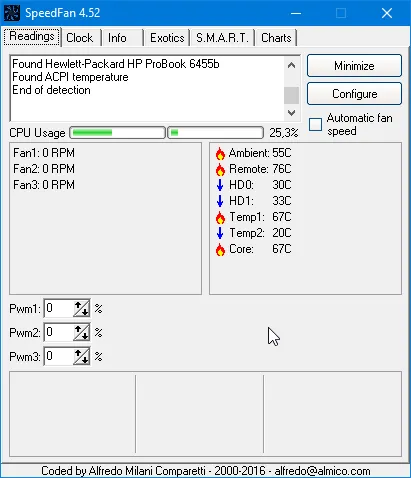 #4: CPU Thermometer (Free)
CPU Thermometer is also a free CPU temp monitor program which can constantly track the temperature of the processor and memory in a real time and display an accurate temperature parameter right at your desktop icon. Beside of CPU temp, it also can be able to display CPU, core number, current temperature, and frequency. It also will notify user when the CPU temperature or Memory Usage exceed the threshold limit. It supports Windows 10 64bit and 32 bit and older versions of Windows.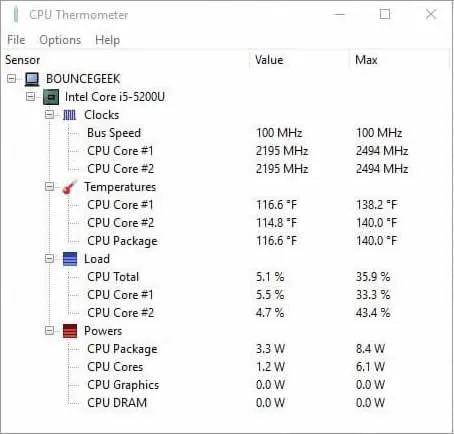 These 4 free CPU temperature monitor softwares are carefully selected based on quality, stability, ease of use. Easy CPU temperature monitoring software could let you check and monitor CPU temperature in Windows 10 or Mac easily and take user defined action when the temp exceed the threshold limit. You can try these free CPU temperature monitor software and find which one suits you better.