In the rapidly evolving era of digitalisation, ZIP has evolved into one of our biggest companions allowing us to optimally utilise the limited storage space of our PCs. People can avail ZIP to archive numerous files and folders in a single location and in an organized fashion. These files can also be opened easily using free utilities like WinZip and 7-Zip whenever required. ZIP now fully supports lossless data compression. So it doesn't impair the subjective quality of the compressed file. And the Microsoft has built-in support for the zip format from the Windows ME operating system. Even if the user does not have the decompression software installed on it, it also can open and create compressed files in zip format.
But the main problem arises when we handle multiple ZIP files and end up forgetting its opening password. Instances are also not rare when we download a ZIP file from any online portal and the file comes attached with a password which we are not aware of. This article we will discuss how to unlock ZIP file without password.
Method #1: Unlock ZIP File using John the Rippoer
John the Ripper is a fast password cracking tool that attempts to crack plaintext in the case of known ciphertext, supporting most of the current encryption algorithms such as DES, MD4, MD5, etc. It supports a variety of different types of system architecture, including Unix, Linux, Windows, DOS mode, BeOS and OpenVMS, the main purpose is to crack the Unix/Linux system password that is not strong enough. This free of cost command-line based program can come to your immediate rescue while trying to remove ZIP file password. John the Ripper comes with a customizable cracker and can even auto-detect password hash types. So, without further ado, let's get started with the steps to unlock ZIP password using this dynamic utility:
Step 1. Download and install John the Ripper and copy your ZIP folder in its 'run' folder.

Step 2. Now you will have to open command prompt and alter the directory to 'run' folder of John the Ripper. For this, you need to type in cd/desktop/john/run followed by pressing Enter.

Step 3. In this step, type zip2john.exe name.zip > name.hash by replacing 'name' with your specific ZIP folder before pressing Enter. Thus, if your ZIP folder's name is 'Apple2019' then you will have to type in zip2john.exe Apple2019.zip> Summer2019.hash.


Step 4. Next you will have to type in name.hash and press Enter. Here 'name' is your hash file's name. Your password cracking process will begin at the backend. You will be required to type in john.exe --pot=name.pot --wordlist=john/run/password.lst name.hash and press Enter.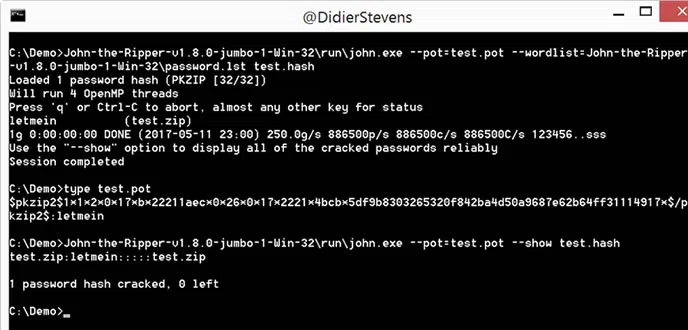 Step 5. Rreplace the name typed in 'name.hash' and 'name.pot' with the name of your ZIP folder i.e. Apple2019.hash and Apple2019.pot. You can check out the list of passwords as well as their permutations from the 'password.lst.'
You will now have to type in 'type name.pot' by substituting 'name' with 'Apple2019 2019' and press Enter for viewing the ZIP folder's password.
Method #2: Unlock ZIP File with PassCue for ZIP
If you think John the Ripper is complicated to use, then PassCue for ZIP is definitely an easy-to-use Zip password unlocker. The program offers three cracking modes: Brute Force attack, dictionary, and mask attack, each of which allows you to easily retrieve your ZIP password without damaging internal ZIP data. It is worth mentioning that Mask attack mode has an extremely high success rate thus making it a common choice amongst users trying to unlock ZIP files. In the latest version, GPU acceleration has been added that could increase password unlocking speed upto 30 times. It also supports the latest ZIP version.
Step 1. First of all, you need to download and install it on your computer, then run it.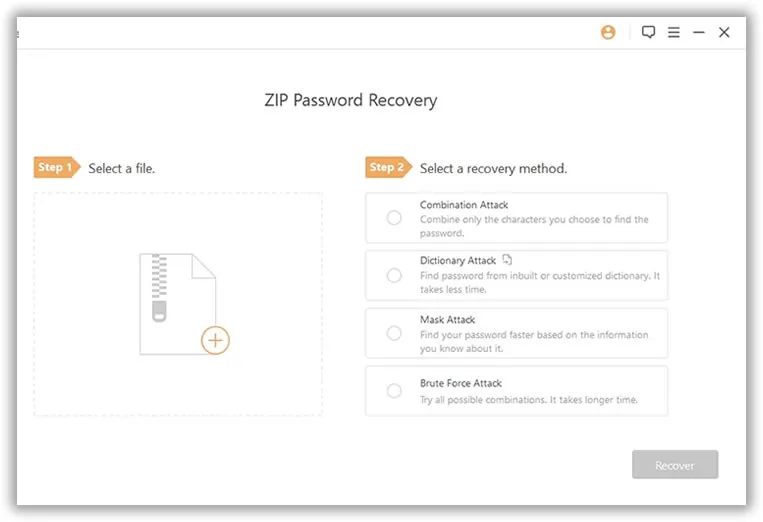 Step 2. Then click the "Open" option to import ZIP files.
Step 3. As you can see, there are three attack types in total: dictionary attack, mask attack and brute force attack. Here we highly recommend you using mask attack if you can provide any part of your zip password like length, range, capital and small letter and others.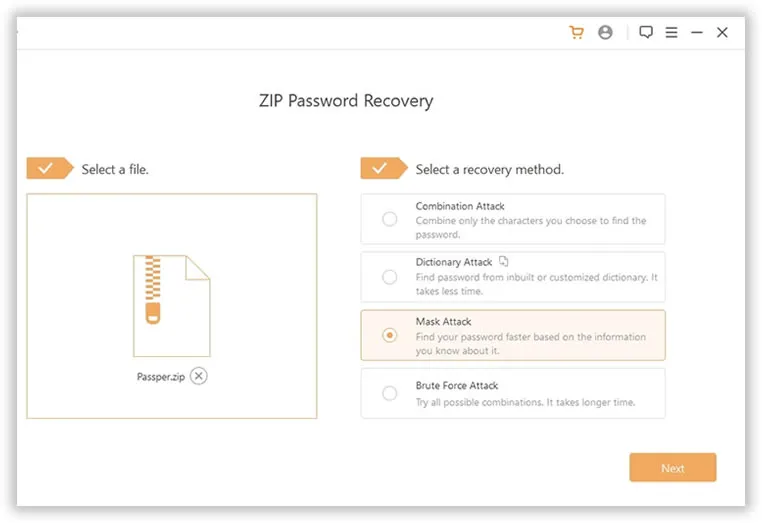 Step 4. Finally, when you complete the all settings for the attack, click Start button to begin the password unlocking. It will take some times based on your password length, complexly and other factors. Just wait!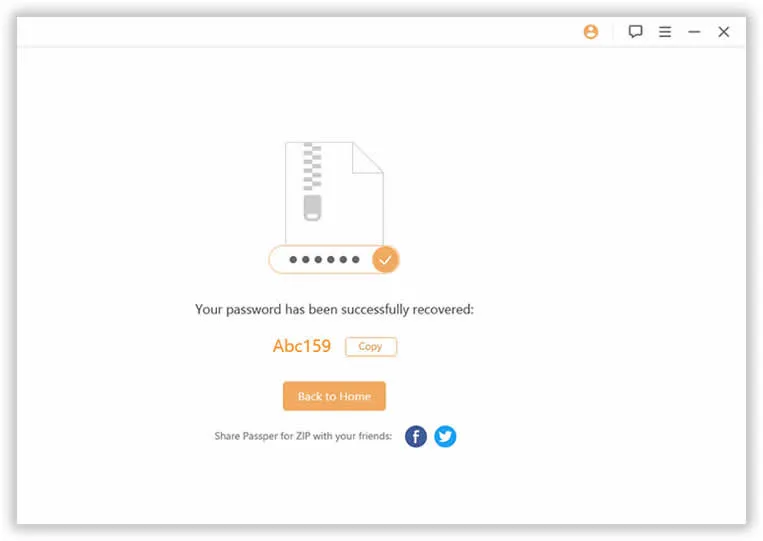 Once the password is found, it will be displayed in the Window. Just click Copy button to unlock your ZIP file.
Method #3: Unlock ZIP File Online
If you do not wish to download any hefty software, then you can readily seek out the assistance of various online portals which can unlock the ZIP file for you. LostMyPass is one such reputed service having several years of experience in unlocking ZIP file password. You will just have to upload your ZIP file by either dragging and dropping or browsing it from its stored location to initiate the process. Maximum upload size is 100 MB.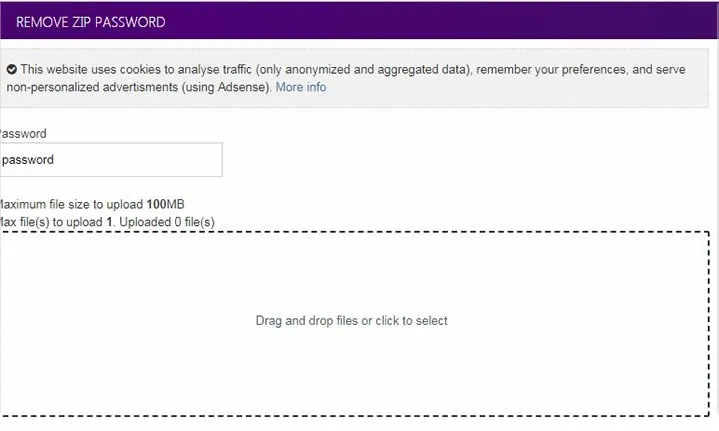 A notification is sent by the system once the password recovery process is completed. The downloaded file is primarily checked free of cost amongst 3 million popular password databases which leads to successful results in 22% cases. Otherwise you will have to proceed with its paid version which will run the password scan through a 20+ billion password database. Although this no frills attached online solution might seem extremely lucrative initially, it is not recommended if you are sensitive about the privacy of your file contents. This online tool will provide you with screenshots of your file before asking for payment. The main motive behind this is to instil confidence amongst users but can pose as a potential threat for those dealing with confidential matters. Uploading your file into someone else's servers also makes it extremely vulnerable to hacking attacks.
Conclusion
ZIP files allow users to set up password for preventing unauthorised access. But the real issue arises when the unauthorized owner ends up forgetting the credentials. Fortunately, there are a few ways of unlocking a ZIP file password. So, from the next time if you ever face such a scenario, don't hesitate to apply any one of our troubleshooting tips to gain hassle-free access to your documents.
Related Articles