If you have ever come across a situation where you have to crack your own system it clearly indicates that your system is highly compromised or damaged. That situation may arise due to forgetting your admin or login password on using the same account after a long period of time. But there is no need to panic at all, as these predicaments are common with us all. Now if you wish to crack Windows 10 password, you can either go to your nearest service center, or you can try to solve the issue all by yourself. Going to the service center might prove to be hectic and costly if your device is in out of warranty. Thus to try to resolve the issue all by yourself is the best plausible option to heed in these kinds of cases.
Few simple procedures are demonstrated below which basically involve the implementation of certain third party tools. Carry on with your reading and you will know them in detail below.
Method #1: Crack Windows 10 Password with Cain & Abel
Cain & Abel is one of the oldest yet the most popular windows password recovery tool which is still used by many users till date. It generally utilizes hash tag algorithms in addition to brute force attack to recover the lost password. Follow the steps below to operate the tool properly:
Step 1. Firstly, download Cain & Abel program file from an accessible computer and burn the ISO into an empty flash drive.
Step 2. Now; insert the loaded flash drive into the locked computer and wait for a while until the program is loaded.
Step 3. Press certain keys from your keyboard as per your computer brand to enter your "BIOS" menu. Select the drive in which the program file is loaded.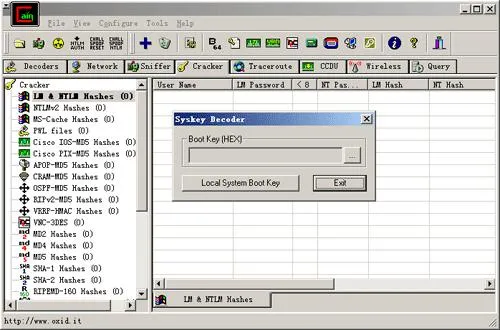 Step 4. Once the file is loaded, all the user accounts of the computer be it local or admin will be displayed on the interface screen of the software. You have to open the boot key option to navigate the drive where you have installed your operating system.
Step 5. Now; simply right-click on the locked account name and browse to the following location: Brute-force attack > NTML hashes.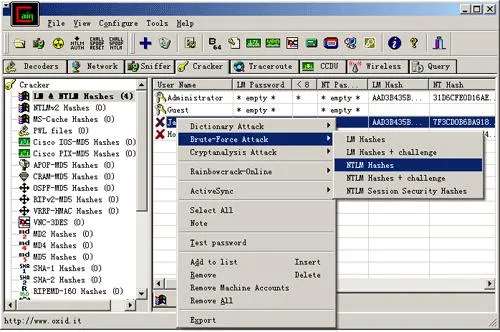 The recovery process may take from few minutes to several hours and once done, you can copy paste the password to somewhere safe and use it later to access your computer.
CONS:
1) It is an outdated program and might not be compatible at times with your system.
2) It does not work fine with Windows 8/10 with 64-bit.
3) Not support UEFI-based computer.
Method #2: Crack Windows 10 with PassCue
There are many essential password recovery or removal tools available on the internet market, but none can match the magnificence of PassCue for Windows. It is one of the finest and powerful password removal tools which can easily bypass the login screen without re-installing the Windows actually. All the Windows passwords are stored in a SAM file with a hash format. PassCue for Windows program could simply manipulate certain SAM keys and disables the password protection feature and the user gets clean access to the previously locked account. To know the tool in detail, go through the features mentioned below:
Step 1

Download and Install It on Another Working Computer

Download the necessary setup ISO file to any of your functional computer and install it accepting all the step instructions. Launch the program with admin privileges, and plug in your USB stick or CD/DVD into your computer.
Step 2

Create a Bootable Password Reset Disk

Burn the ISO files by clicking "Burn USB" or "Burn CD/DVD" options depending upon the disk type you have inserted.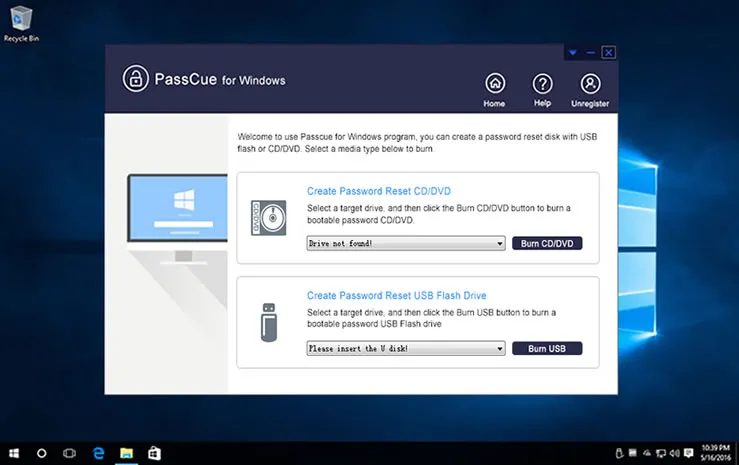 Step 3

Set Your Locked PC Boot from USB Drive

Eject the loaded password reset disk and plug it again into the locked computer, alter the boot preference order if need be and then boot from it. Reboot your locked PC and repeatedly press the keys like F2 or F11 to enter the BIOS settings. Choose your USB or DVD disk as the priority device in the "Device Priority" list.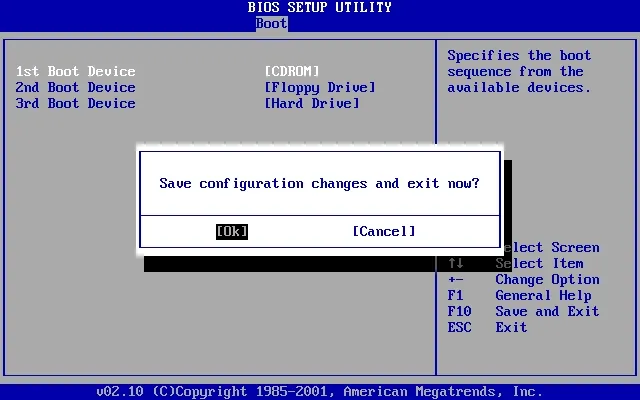 Step 4

Start to Crack Windows 10 Password

Reboot your locked PC, then the PassCue for Windows will be loaded with displaying all systems and users in it, once all preferences are chosen, simply click "Reset Password" to reset your selected user to blank, Then click "Reboot" button to boot your PC.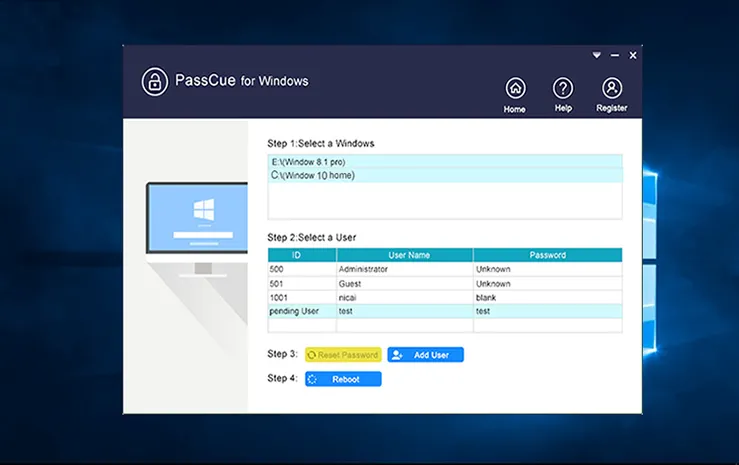 The system will be rebooted but there will no password inquiry at all.
For Windows 7 users: 4 Ways to bypass Windows Login Password without Losing Data
Method #2: Crack Windows 10 Password with Freeware NTPasswd
NTPasswd is a wonderful password removing utility which can easily crack Windows 10 password and astonishingly without overwriting your old password and you don't have to re-install the operating system. It disables the password feature by temporarily removing the password on any 32-bit edition of Windows 7 not Windows 10. However, since it works so differently than PassCue for Windows, but it still requires a few post-cracking steps to be a real password reset solution. This amazing program is too difficult for computer novice because you need to type multi-line commands. Read carefully the steps for better tool's usage:
Step 1. Download the setup file from any operational computer and start to burn the ISO file into a bootable USB or DVD.
Step 2. Plug in the bootable disk studded with the program file into the locked PC and change the BIOS utility settings to boot from the inserted device. Then you must ensure the USB device is set as the primary boot device in the BIOS and press "Enter" button on the first flash screen.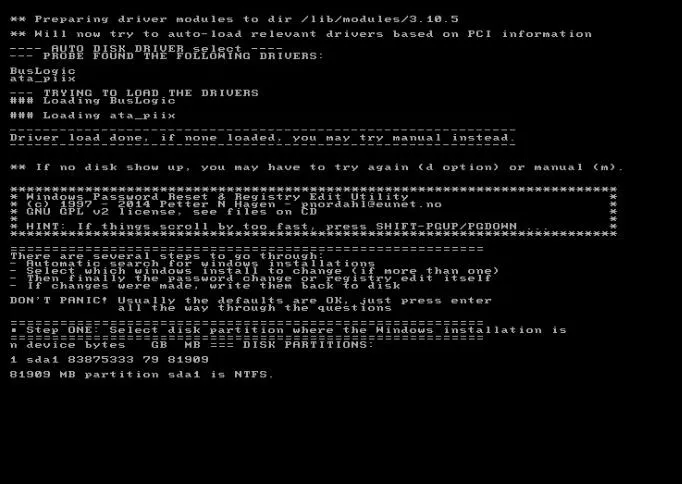 Step 4. The Ntpassword tool will exhibit another flash screen. Select to login as a Guest user or with your standard user account. Open a Command Prompt by using key: Win key+R -> cmd, then type these commands: On User Edit Menu, type 1 and press Enter to select "Clear (blank) user password".
See how it works: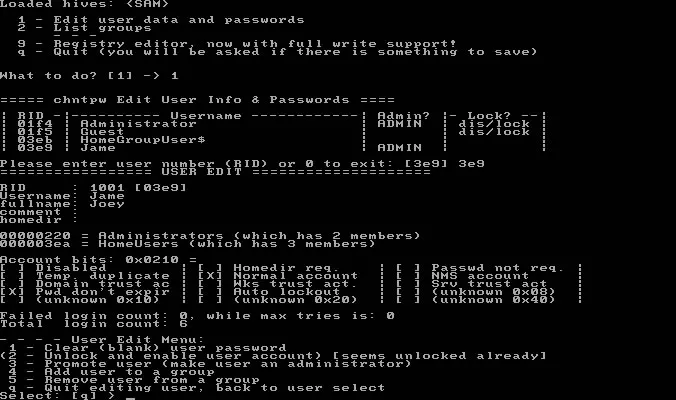 Next step, type q to quit the NTPasswd tool and type y to save your changes. Now, reboot your computer and you will find that the password was bypassed completely! Then you would use your computer like before as if there is no any password set up. What's more, remember to set up a new password for your account and write them down.
CONS:
1) It is a very complicated process
2) It doesn't work with 64-bit Windows version computers.
3) Does not work with Windows 8/ 10 versions.
4) could not get it to work from a USB drive
Final Words:
Bypassing passwords for your locked out admin accounts are not that difficult to pull off, if you know what to rely upon for the specified job. Now all the aforementioned methods in the beginning end up with some downsides which eliminates the possibility of choosing them for a secured result, so we are all left with PassCue to implement which at its best to crack Windows 10 password and offers you the clean access to your user account in your Windows 10 Laptop.