Now assuming to be done with all the past diffracting experiences you had with your broad desktop machine, you no more expect the same to be repeated with your laptop. So you open your Lenovo laptop, accidentally enter a wrong password, and - ACCESS DENIED. It's all shattered right? You again reel back to the same hog log, where you have no right to access your own login account once you forget it or lose it, a complete dead end. So you must be very anxious and want to reset Lenovo laptop password without reinstalling system.
Specifically we are going to deploy third party tools here to curb our ways. Although, old computer geeks admonish you for relying too much upon tools and software, but my friend, you have already come halfway across the era where operating tools are being demanded everywhere, and you cannot deny the fact that tools can actually bring about a better result faster and more accurately. let's see how to reset Lenovo laptop pasword on Windows 10/8/7 with easy.
Part #1: Reset Lenovo Laptop Login Password with TRK Tool
TRK or Trinity Rescue Kit is a very old and intensive Windows Password removing tool which can definitely to source the result in no time. You need a computer first, and especially a working one to make a password reset disk, and then start with downloading the tool from internet. ISO image is to be burnt next into a CD/DVD or USB to create the bootable disk. You are prepared with your bootable armor, so insert it into the locked laptop and reboot the device. TRK would read your bootable drive and an immediate menu would blaze up, very much like the one shown here:
TRK would read your bootable drive and an immediate menu would blaze up, very much like the one shown here: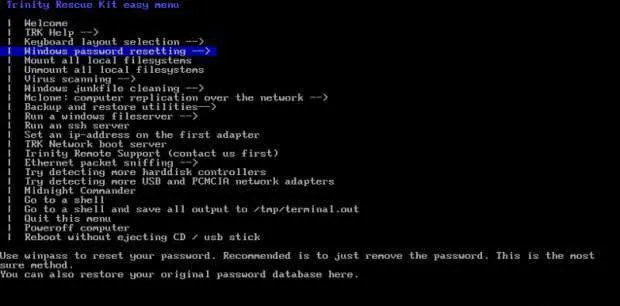 Search for "Windows Password Resetting" option and click on it. Hit "Enter" key to see what comes next. Pick up with "Winpass with prompt for username first" option and mention your user name which at present is locked dead.

The newly loaded program will catch up with all the OS details and display them on screen. Here press "1" key to remove the password protection facility.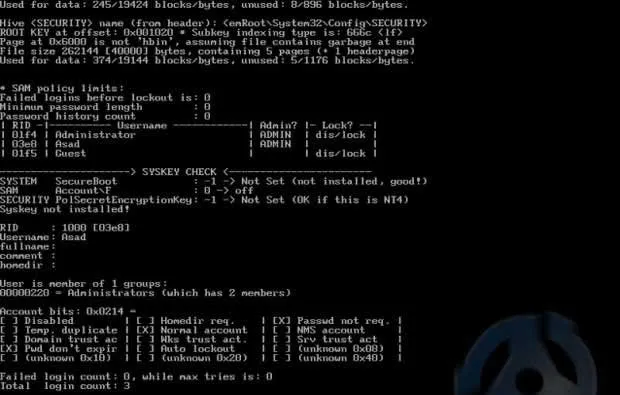 Now do you want to see if it works or not? Restart your laptop, and you will find no password prompting in the lock screen.
CONS:
1) Unfortunately, this tool does not work always for admin accounts, but only for local accounts.
2) Doesn't support 64-bit Windows.
3) Not support UEFI-based computer.
4) Too complicated and your system is very easy to be damaged and very difficult to repair.
Also read: 4 Ways to Bypass Windows 10/8/7 Login Password without Reinstalling
Method #2: Reset Lenovo Laptop Login Password with PassCue
When it comes to smart password recovery, no doubt you have come to the right phase. PassCue Windows Password Recovery is a fully crafted, and well built tool with no uncertainties of failure upon using it. It can bypass the lock screen password by remove SAM file without any actual data loss. Now this is something really elegant and sharp in performance as compared to the previous tool. What you to do is make a reset disk with USB or DVD, then reset your Lenovo password with no usual mess up of OS re-installation. Just 3 steps required, you will re-access to your laptop without password.
Fully compatible resetting tool for all Windows OS..
UEFI, DSI legacy BIOS modes can work with it efficiently.
Reset all password types: admin, login, user, guest, Microsoft account.
Both USB and CD/DVD can be used to create bootable disk.
It supports all types of file system- FAT 16, FAT 32, NTFS, NTFSS, etc.
Step 1

Download and Install It on Another Working Computer

Get an accessible computer or laptop to work. Choose the correct version of the tool from Passcue official website, and make your choice to download it. Use the Installation wizard guide to install it normally and launch it as an admin.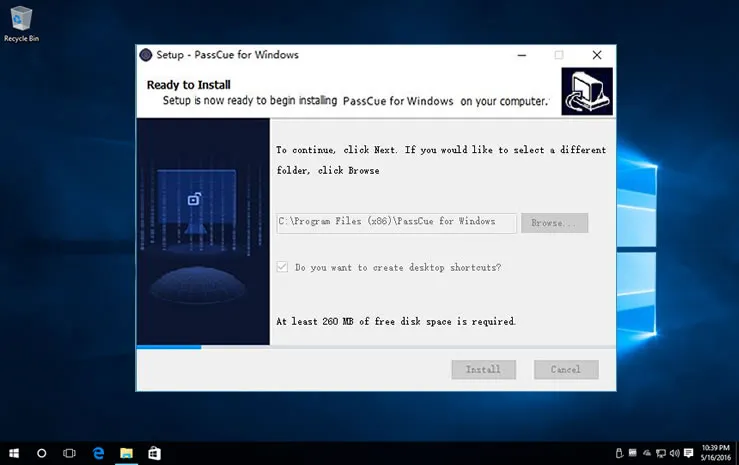 Step 2

Create a Bootable Password Reset Disk

Just upon opening it for the first time, you will be asked to choose your media file type, what you are exactly about to insert as the reset disk, CD/DVD or Flash drive. Insert your Disk in real, and select your burning ISO image option. That depends upon the disk type - Burn CD/DVD or Burn USB.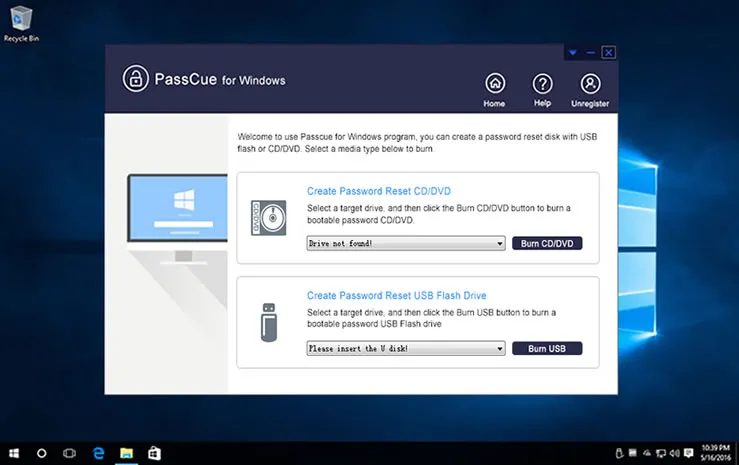 Finally click "Ok" from the pop-up with a message "Burning Successfully!" to terminate the burning process.
Step 3

You need to Make Your Locked Lenovo Boot from USB Drive

Just quickly get over with ending the burning process, click "Ok" and take ou the disk to re-insert it into the locked Lenovo Laptop. You will need to press "Del or F2, or F80" to enter the BIOS setup. Check your Device priority list in the BIOS setup and set the inserted disk to priority, and there will be no further program loading issue.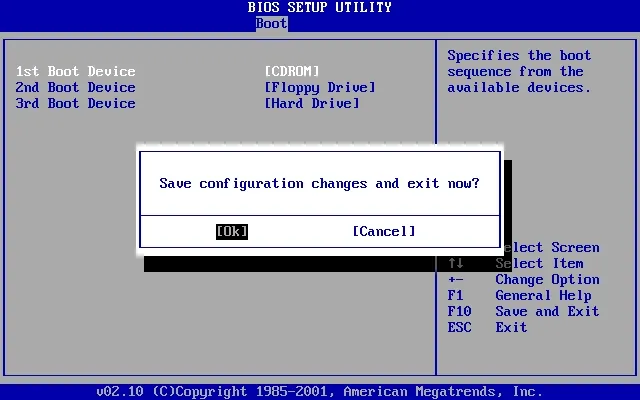 Step 4

Let's Reset Your Lenovo User Password to Blank

Choose your locked account from the list revealed before you. It's okay if you have a huge list in front of you, just focus on clicking the "Reset Password" and "Reboot" buttons to restart the system and click the resetting in motion.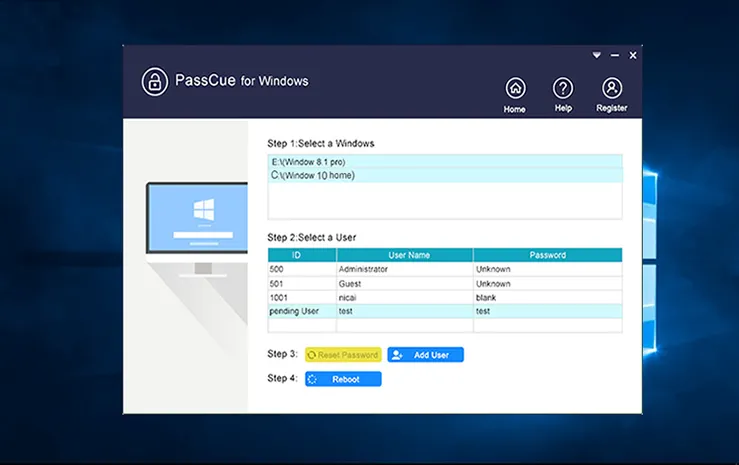 After it turns up, you will not be disappointed again with sign in screen, but will be redirected to your home screen without any password obstructions.
For Windows 7 users: How to Unlock Windows Login Password without Losing Data
Part #3: Consult the Nearest Lenovo Service Centre
This is something you can do anytime, if you feel less confident with your upsurge to set it all right by yourself. After all, it is quite natural to be afraid of worsening your machine more out of inquisitiveness. Thus take an advice of expert technicians in the Lenovo service centers to see what they can do. They have their own tools and equipments to deal with these types of shortcomings, so just relax and let them do their job. Just wait for the day when you can collect your laptop, open it with a smile with no restriction at all.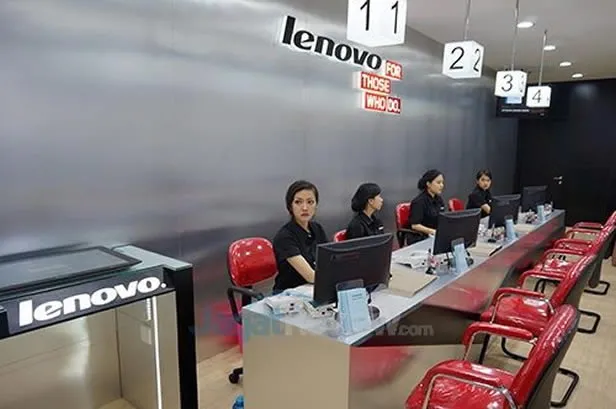 First point to remember, don't forget your lenovo laptop password again, rather don't repeat the mistake of not noting it down verbally from the next time you set a new password. With PassCue Windows Password Recovery tool by your side, you can actually handle the turns of wrong choices if you make any again and again, but still being cautious is not a bad idea after all.