The concept of "digitalization" is at its peak from the last decade. Consequently, more and more people across the globe switched to computers over traditional record-keeping methods. The need for a stable working platform was felt. All thanks to Microsoft for fulfilling all the needs- the "miracle" Windows!
Microsoft Windows is definitely a revolutionary product and is helping the masses to complete their day-to-day jobs. But ever encountered a situation where you're unable to login into the system because you lost the Windows password. Imagine yourself in a scenario where you want to make last-minute edit to an important presentation or compile some work-related spreadsheets and you're unable to login into the system. Probably, that's the worst situation one can encounter! If so is the case with you, then there is nothing much to worry about. All you need is a Windows password recovery tool. Here we've compiled a list of the best free Windows password recovery tools in the market. All you need to do is make a wise choice and follow the simple steps listed below:
Top 1. PassCue for Windows V6.1.1
The first Windows password recovery tool on our list is PassCue for Windows V6.1.1. It is definitely my first choice. Apart from being an efficient Windows password recovery tool, it comes with extended support for options like making USB/DVD/CD reset disk, reset Windows Server password, reset Microsoft Account password, support for UEFI-based computer etc. Thus, the whole job of getting access to your lost Windows password is easy. Besides, it also allows users to create a new local user. The best part is you can reset your Windows password without reinstalling the whole system again.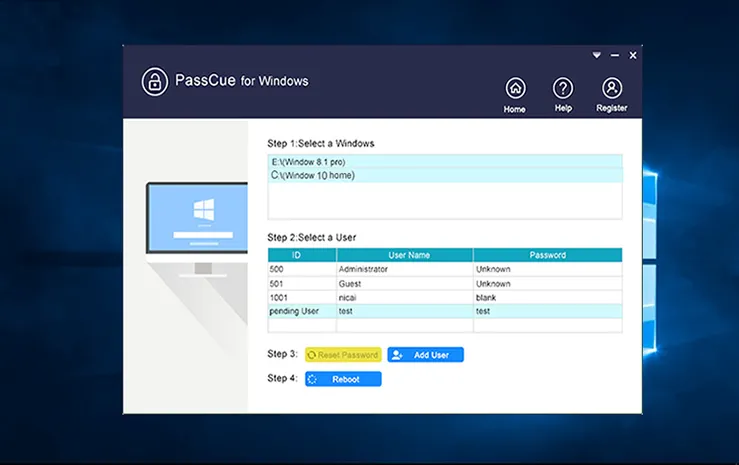 Pros::
1) Ensures fast and 100% password recovery.
2) Comes with an interactive and easy-to-use interface.
3) Available as free-trial. 100% secure password recovery.
4) 30-day money back guarantee.
5) Comes with extended support for UEFI-based computer.
6) Compatible with all the latest versions of Windows and Microsoft Server.
CONS:
1) Doesn't reset Windows Raid server password
2) User needs to create a bootable disk before resetting the password.
Top 2. Ophcrack
The second on our list is Ophcrack. It is one of the best-known solutions to encounter the Windows password loss problem. The best part about this tool is free to use. The only prerequisite is the user must have prior knowledge about using Windows. This tool is compatible with all the major versions of Windows. All you have to do is to download the free ISO image from another computer, burn the same to a DVD or USB drive and you're all ready to initiate the process of Windows password recovery. Once plugged in, this tool automatically starts the recovery of the lost password and initiate the task of locating the Windows User Accounts.However, there may be some issues occur, like Tables not found or No tables found error. If you encounters this, you open the Linux terminal in the applications menu and type the code to fix it.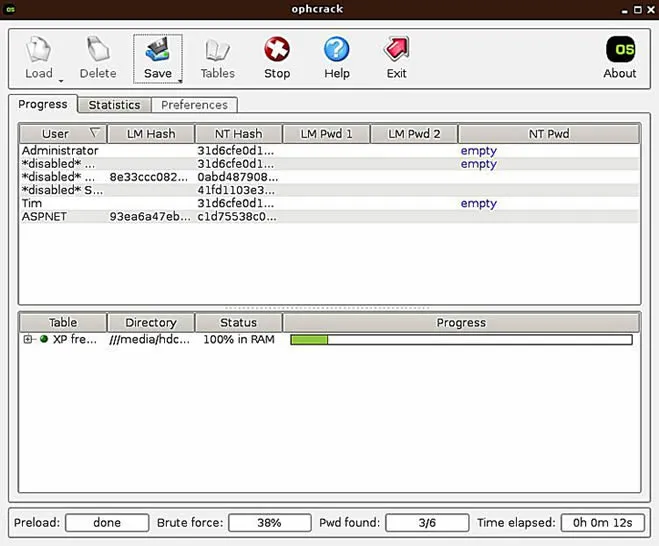 Pros::
1) The free tables are suitable for all uses but I never been recover my password with it.
2) There's a success rate of around 89%,
3) Ensures a faster password recovery than most of the premium tools to watch out for in the market.
CONS:
1) Some antivirus software treats Ophcrack as a Trojan Horse
2) The other limitation is this tool can't be used to recover password above 4 characters of length.
3) It only works on Windows XP/Vistia/7, not Windows 10.
4) Won't work on UEFI-based computer.
Top 3. Offline NT Password & Registry Editor
The third in our list of the best Windows password recovery tool is Offline NT Password and Registry Editor. The best part about this is that it doesn't need any Internet connection to work. Also, one doesn't need to have access to the old passwords for resetting a new one. It is categorised as an open source tool and is created by developers all across the globe. Like Ophcrack, you also need to create a reset disk with disc or USB drive and delete your password without erasing data. This free program is too difficult for computer novice because you will be required to type multi-line commands.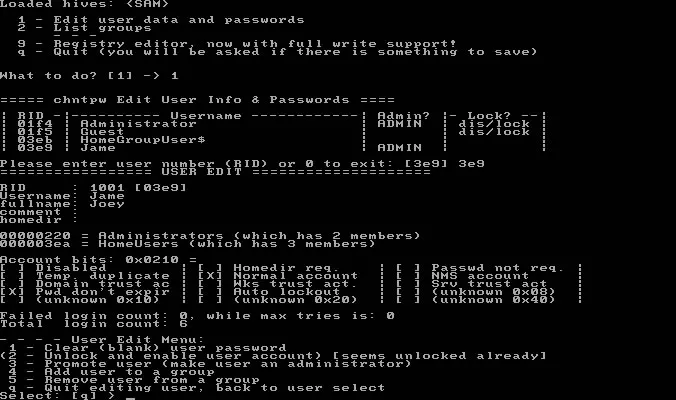 CONS:
1) This tool doesn't come with a primary graphical interface which may be confusing for the first time users.
2) It doesn't work with 64-bit Windows version computers.
3) 2.The worst part about free NT password recovery tool is that it doesn't have any graphical interface. This implies the whole tool is text-based or command based. Thus, users take extra time to get familiar with everything.
Top 4. Lazesoft Recover My Password
The fourth tool in our list is Lazesoft RecoverMyPassword. It is also compatible with all the major editions of Windows irrespective of 32-bit or 64-bit system architecture. It allows the users to make a bootable media device like DVD, CD or USB Drive for restoring the windows password. In our test, we find it was able to recover the 10-character password to the Windows 7 "Administrator" account in 10 seconds. I've tried it with Windows 10 Pro edition and was unsuccessful each time.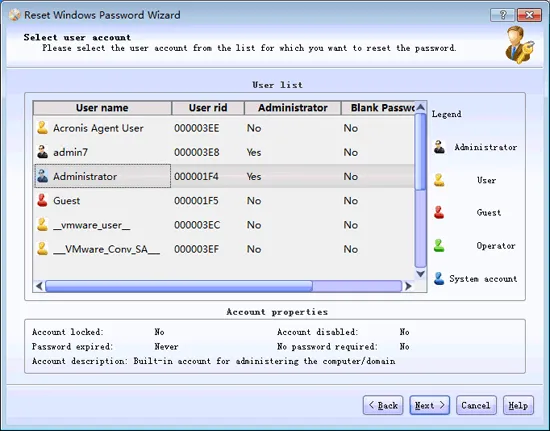 CONS:
1.This tool is compatible with all the editions of the Windows.
2.Comes with an easy-to-use interface.
3.Extends technical support for its loyal customers.
Top 5. Passware Windows Key
One shouldn't be surprised to find Passware Windows Key name in our list. Like OphCrack, this tool also helps in recovering the passwords by initiating various attacks like Dictionary, Cryptoanalysis, Brute Force etc. on encrypted passwords and networks. On the basis of the rainbow table used, it is seen that this tool delivers excellent stats and recover almost 99.9% of passwords. Besides, this password recovery tool is also used to decode passwords related to Windows passwords, Windows Mail, Internet Explorer etc.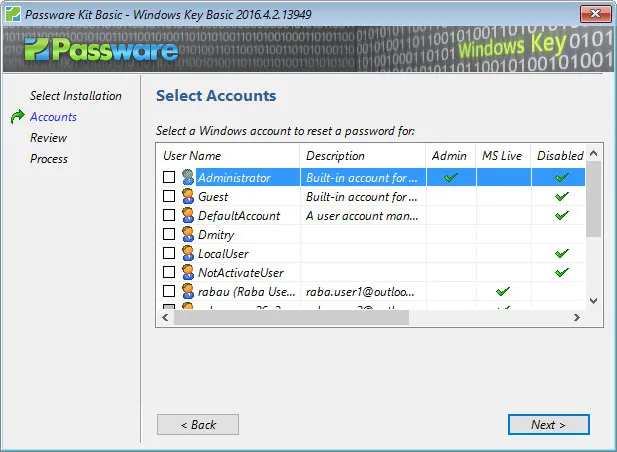 Pros::
1) This tool shows amazing stats in recovery rate. It delivers correct results almost above 90% of the times.
2) Extends support for all the major editions of Windows.
3) This tool also claims a 100% money-back guarantee.
CONS:
1) Also, few antivirus programs accidentally identify this tool as Trojan Horse.
2) It only works on Windows XP/Vistia/7, not Windows 10.
3) Won't work on UEFI-based computer.
4) Requires technical background
Top 6. John The Ripper
John the Ripper is a free Windows password recovery tool that can be run  runs on different platforms. This tool holds the potential to crack different types of hashed which includes the MD5, SHA etc. It initiates multiple attacks like a dictionary attack, hybrid attack or brute force attack to recover the lost password, however, it takes a long time to run.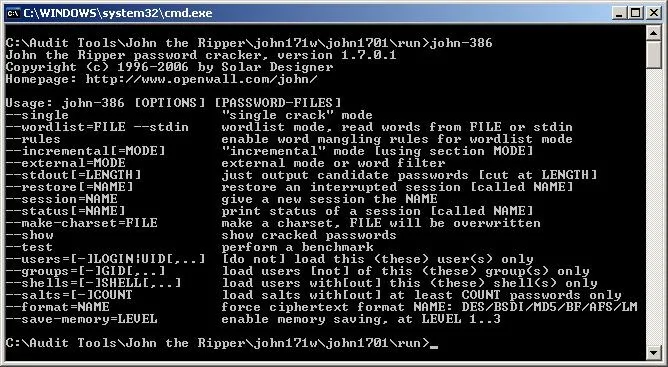 This tool was widely used during the earlier days when Windows NT/2000/XP/2003 ruled the markets. Now, this tool isn't much popular among the masses as there are no maintenance updates. And it's a password cracking tool reserved for the very advanced user since it is operated at the command line.
Final Words:
Since the whole process of Windows reinstallation takes a lot of time and can result in data loss. This is when these best free Windows password recovery tools come into action. Though all the above-mentioned tools are easy to get and simple to use; we highly recommend our top preference PassCue for the same. I hope this article serves the purpose and helps you to easily reset your Windows password. If any problem still persists, do notify us in the comments section.