"I recently tried to install Windows 10 on my iMac (10.12), before the installation, i got an messages that "Failed to load BOOTMGR", I've tried using three different USB drive and get the same errors. I have also tried booting holding alt, cmd and eject. I can't get in to any OS. Please help."
Do you encounter the same errors when using a boot camp created USB drive to install Windows? Your Boot Camp Assistant is not loading Bootmgr... right?
First of all, we need to know what boot camp assistant really is. It is an in-built software provided with Mac computers. It helps in installing Windows OS on Mac system, by partitioning the hard disk and offering a part to Windows and the rest of it to the Mac. Secondly, Bootmgr, is a small piece of software known for Boot manager. It is loaded from volume boot code which is actually a segment of the volume boot record. Basically it helps in booting the Windows, which is in this case on a Mac interface. Now combining both the terminologies, we come to the conclusion that when Windows is installed on Mac, the boot camp fails to load the bootmgr, which clearly means that the Windows is not running on Mac.
Fix 1: Install Latest Windows 10/7 OS
The major reason behind these issues is incompatibility of the Windows OS file and the Mac OS. If you are installing the older version of Windows on a latest upgraded Mac OS, the problem is bound to occur. The simplest solution is to download the latest Windows 10/7 April 2018 edition and then install it.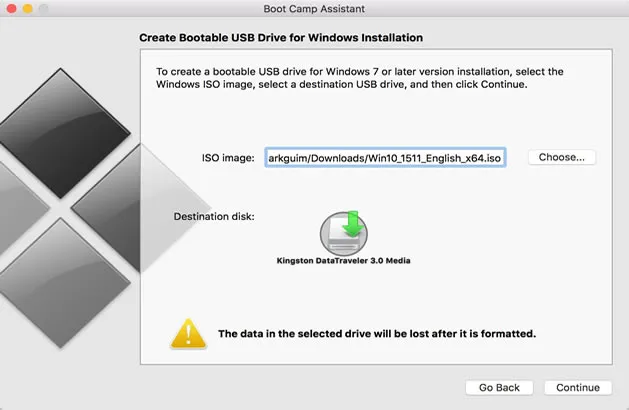 Step 1. As a first step, download the Windows April 2018 version from this link.
Step 2. Open a new "Finder" operating Window, and then go to "Applications".
Step 3. Click on "Utilities" folder.
Step 4. Choose "Boot Camp Assistant" and click on "Continue" button to proceed.
Step 5. Browse the downloaded ISO file and then partition the hard disk to provide at least 55 to 60 GB for Windows and the rest for Mac OS itself.
Step 6. Click on "Install" button and then choose the drive named "Bootcamp" while the system begins to boot.
Step 7. Choose your language, accound credentials, timeline etc, to continue the process. So now you see, Windows will load on your Mac, which clearly means the boot manager or bootmgr is working fine, and boot camp has not decline it this time.
Also read: How to Fix: Boot Camp There Is not Enough Space Available on Disk USB
Fix 2: Create A Bootable Disk with PassCue for ISO Tool
If the part 1 won't fix your issue "Failed to load BOOTMGR", just try this method. In this approach we will make use of PassCue for ISO tool, which is actually ISO editor. It helps you to burn, edit, modify, create ISO files in whichever way you want. And since our main problem is with ISO file which contains bootmgr. Rectifying or modifying the ISO file will automatically set right the boot manager as well. Here we would actually reduce the size of the Windows core ISO file, whose large size is often the reason Boot camp finds it difficult to load its boot manager. It fully supports both MBR and UEFI based computers and create a bootable windows disk without getting any errors, then installing Windows 7/8/10 on a Mac is straightforward.
Step 1. Download the tool by clicking the Download button.
Step 2. Install it safely and launch it with admin privileges. On the main interface you will find the 5 already mentioned function buttons.
Step 3. Select Burn option to create your Windows bootable disk, suppose you've downloaded a Windows ISO file on your Mac, then insert USB drive to computer, and import it to program by clicking Browse.
Step 4. click "Burn" button to start.. after creating, set your Mac boot from USB drive.. and it will load the installation interface.
Read the article thoroughly from top to bottom, and hopefully the solutions will definitely help you with boot camp failing to load bootmgr issue.