There are times when we need to install some softwares on our Windows 10 system, after you you downloaded and try to install it, you may be prompted an warning messages: "The publisher could not be verified. Are you sure you want to run his software?" You may have tried to uncheck but does not help.  So, how can I solve this problem? How do I run the program without this security warning always poping up?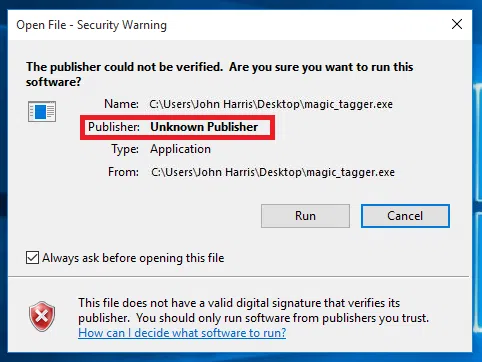 This is because the software you downloaded does not have a digitally signed certificate, then Windows considers this software to be a potential security threat and prompting users to download and install it carefully. But not all unsigned software is not secure. The Windows 10 system requires a digital signature for the software, otherwise it will not work properly, but sometimes it is necessary to use a software without a digital signature. In this case, you need to disable the "Publisher couldn't be verified".
Many users have asked how to remove the "Unable to verify the publisher" or "Unknown Publisher" prompt box that Win10 pops up. Today, I will share a variety of methods to close this prompt box.
Part #1: Bypass "Unknown Publisher Warning"
When you have downloaded a software on your Windows, right-click on the desktop shortcut icon for the software and select Properties Options > General > Security tab, which says "This file came from another computer and might be blocked to help protect this computer" and the "Unblock" checkbox, then you can see there is no unknown publisher warning in your windows 10.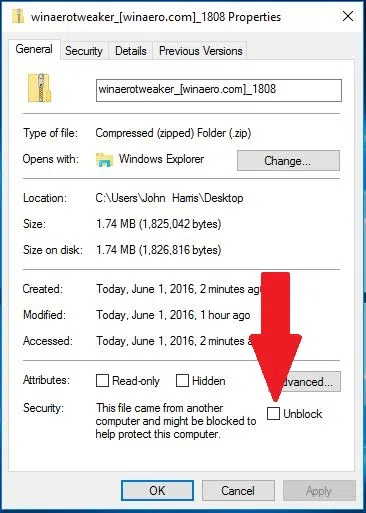 Part #2: Disable Publisher could Not Be Verified via Registry
The other way is to modify the registry, this is an advanced way to thoroughly remove "publisher could not be verified" in Windows 10/8/7. So it is best to remind you to back up the registry first, in case the problem caused by misoperation can not be solved.
Step 1. Enter regedit in the Cortana search bar and press Enter.
Step 2. Find the following location:
HKEY_CURRENT_USER\Software\Microsoft\Windows\CurrentVersion\Policies\Associations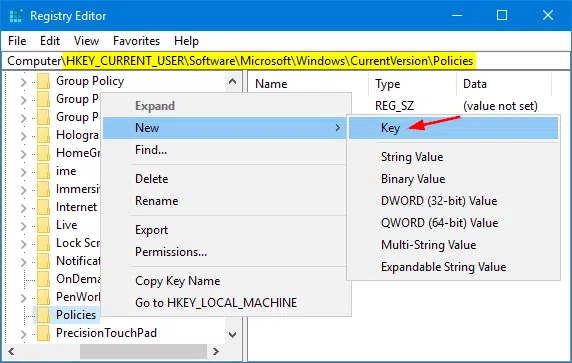 Note: If there is no "Association" item, right click on the Policies, select New → Item, and rename it to Associations
Step 3. Right click on the right margin and select New → String Value, named LowRiskFileTypes
Step 4. Double-click LowRiskFileTypes and enter in the numeric data (copy and paste, please don't lose any punctuation). After the following, click OK:
.zip;.rar;.nfo;.txt;.exe;.bat;.vbs;.com;.cmd;.reg;.msi;.htm;.html;.webp;.bmp;.webp;.avi ;.mpg;.mpeg;.mov;.mp3;.m3u;.wav;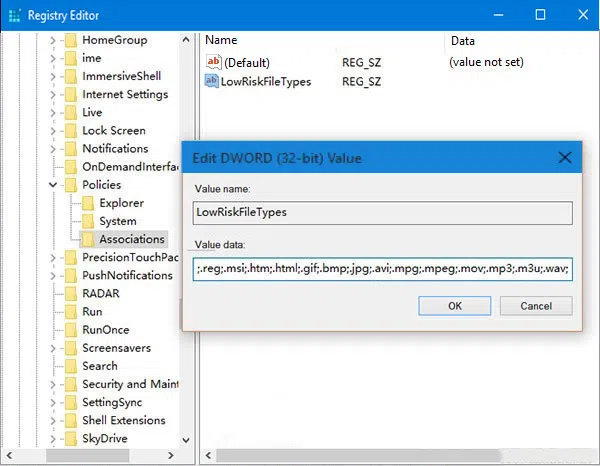 At this point, restart the system and the changes will take effect. In the future, if you will encounter the file format in step 4. The "publisher could not be verified" will no longer appear.
Learn More Code Signing Certificates:
Code Signing Certificates are authentication services that provide software developers with the ability to digitally sign the software. By digitally signing the code, the "publisher could not be verified" warning popped up during software download can be reduced and blocked, the code integrity and the malicious tampering can be ensured, and make the software vendor publicly visible to the users, thereby establishing a good software brand reputation.
In order to protect the windows system from any potential threats, it is not recommended to turn off "publisher could not be verified" prompt box that Win10 pops up.