If you are using a Windows or Mac user, then you surely has Microsoft Excel documents in your system. Whether you are a businessman, consumers, students, institutions, you would definitely require Excel files to handle piles of data in an organized way. But at the same time, you need to secure those data with Password protection. Now if you are dealing with too many documents with password protection, it is not uncommon for a person to forget one or two passwords. But forgetting an Excel password does not mean that the contents are lost forever. You can still gather it, but first you need to adopt some measure to open an encrypted excel file Excle file without password.
Thus this article will help you prepare yourself ahead of time to deal with situations when you lose hold of your Excel file passwords
What kinds of Password Does Excel Has?
There are various types of in-built encryption features involved in Excel 2016 for its users and they are as follows -
#1. Open Password: Open password is the most common type of encryption used by all users. Basically, you set up a password for opening the document. So, whenever a person open that specific document, he will be promoted to enter a password.
#2. Modify Password: Modify Password is generally used by offices and corporates where you can view the document without any issues but you will have to enter a password in order to modify or make any type of changes. This is also known as Real-Only documents because it allows you to read the document without any restriction but in order to make any changes, you will have to grant the permission by inputting the password.
#3. Read-Only-Password: Just like modify password, read-only password documents can only be read and viewed but cannot be changed whatsoever. Easy as that.
#4. Workbook Structure Password: This type of encryption is important when you don't want anyone to add, move, delete, hide or rename anything on the worksheets. This is called protecting the structure of the Excel sheet. However, this can only protect the structure of the document but not the content. Hence, any content inside a workbook structure password can be modified.
#5. Sheet Password: Sheet password typically stops any user from changing, modifying or deleting content within a worksheet. It can allow an user to edit certain part of the sheet but not all of it. Any user can edit the certain area of the sheet where you have made it editable.
Method #1: Open A Password Protected Excel File with Knowing Password
Because different Office version now contained different encryption and decryption method, so it may be a bit complicated to remove a password protected Excel file in 2016 even you've already known the password. In the old Excel version, we can remove the password protection by clicking File > attribute > File encryption then type the known password. But in the 2016 version, it's totally different.  Let's follow this steps below to decrypt your Excel file with a known password.
Step 1. First, Open the targeted Excel document on your computer, it will pop up a Window asking you to type the password. Just type your password and click OK.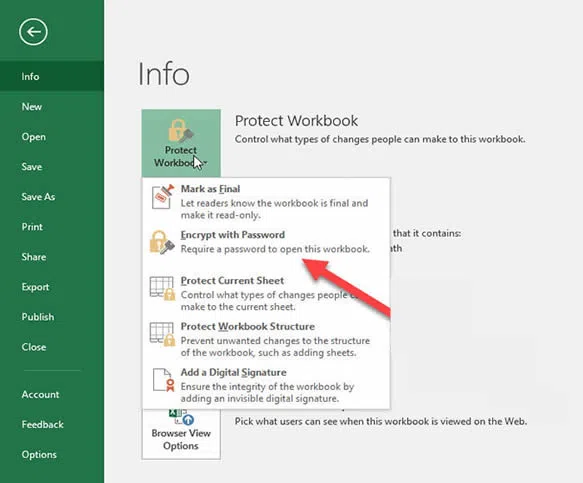 Step 2. after you accessing your Excel file, then go to File > Info > Protect Document > Encrypt with Password. In the drop-down menu select the option Encrypt with Password.
Step 3. Then in the pop-up Window, just delete your previous password and leave the field empty, then click OK. Then save it and open your Excel file again, you will find it won't asking password any more.
Method #2: Open A Password Protected Excel File with Passcue for Excel
So far we have discussed many methods taking in consideration that we know the password. But what if you don't know it, or have lost or forgotten it. In that case the first methods will be pointless. Thus in this section we would make use of a third party tool called Passcue for Excel tool, which can open a password protected Excel files no matter how complicated and long the password is. It provides 3 recovery options (Dictionary Attack, Brute-force and mask attack) which gives you a flexible and customizable way to crack any content protection that in Excel file encrypted in 256 bit mode without touching original data. If you forgot Excel password then this program would be a best solution, it now fully support all version of Excel like 2007/2010/2013/2016 and keep updating. It supports quickly recovering Excel open password and instantly remove worksheet/workbook/read-only password.
Yo may be saying that other similar tools also used force-attack method to unlock a Excel file. Most importantly, this Passuce for Excel program fully supports multithread and multi-GPU acceleration, this means it greatly increase the searching speed up to 10 times than before. With the GPU acceleration, there might be a chance that Passcue could unlock a Excel with 10 length password.
Part 1: Unlock Excel Open Password
Step 1. Download the software positively from its official website to get the right version to the computer which currently stores the locked excel file.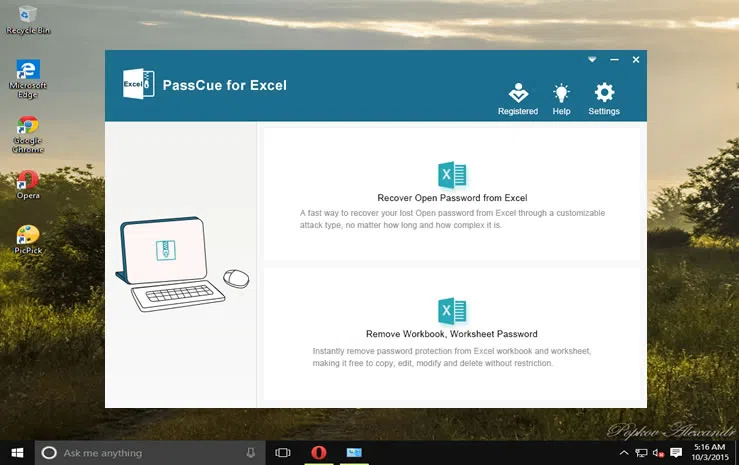 Step 2. For the open password on Excel, just select the option one. In the next window, click on "Add file" button and browse through your computer's local drive to select the excel file.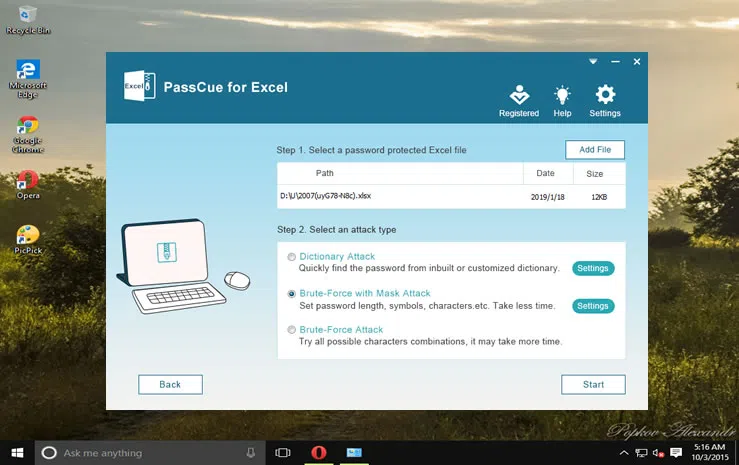 Now once the file has been loaded on the tool platform, you need to select your attack type as mentioned earlier in its features. There are three attack type: brute-force, mask and Dictionary.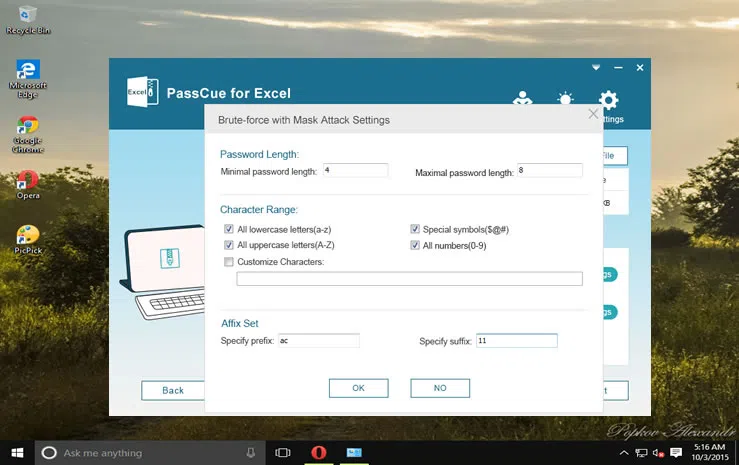 Step 3. After you complete all parameters in the setting page, then click on "Start" button to begin the process.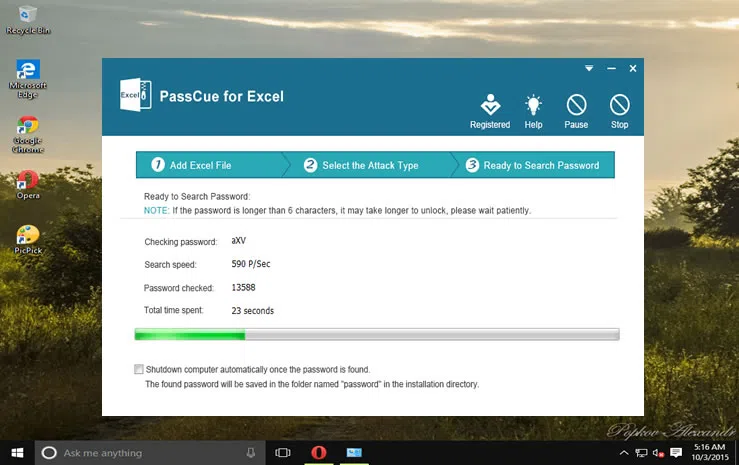 It may take some time to find your password,  in the range between several minutes to a few hours based on your password length or complexity. In the middle you can pause the process, and resume it whenever you want. As soon as the password founds, note down the lost password and open up your password protected excel file this time.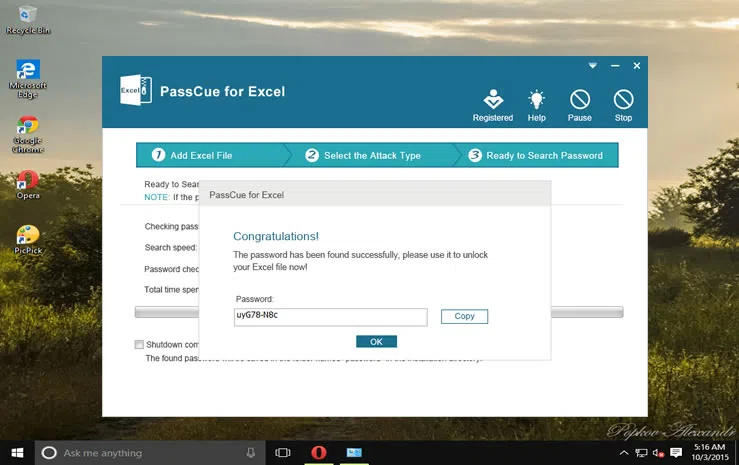 Part 2: Unlock Excel Workbook/Worksheet Password
If you forgot the Excel worksheet/workbook password then you will not be able to make anythings except viewing the content in the file. Fortunately, with PassCue for Excel, unlocking the password from an editing-locked worksheet/workbook is fairly straightforward. Let's see how it works.
Step 1. Suppose you've installed the Passcue for Excel tool and run it, select the option 2 to enter the next Window. Just click the Add File button to browse your password protected Excel file and import to program. You're allowed to batch import your Excel files.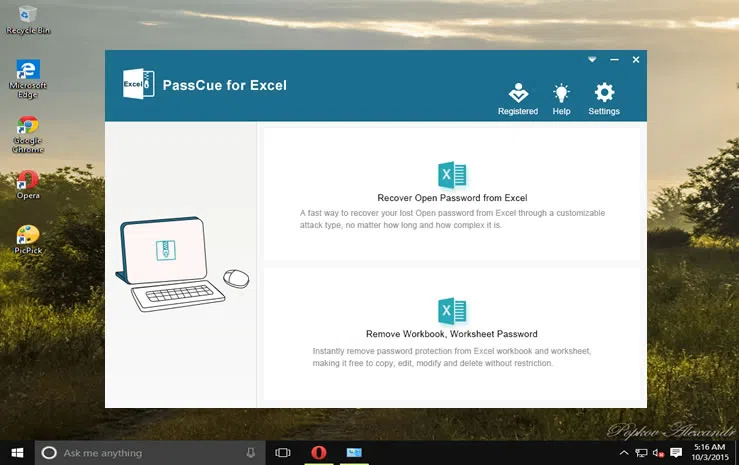 Step 2. Once the Excel files are imported, you will see that each file will be marked with a lock icon, this means it has a Open Password. Next, specify a location to save the unlocked Excel file, then click Start button to let program unlock password protected workbook/worksheet password,  it's virtually instantaneous.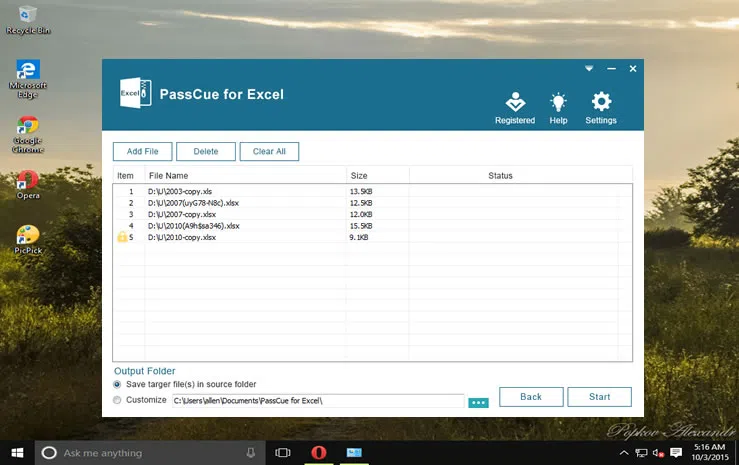 Just download the program and give it a try! You won't be disappointed! ! !
Method #3: Unlock A Password Protected Excle File without Software
You may know that changing the extension to .zip format could help you unlock Excl file, yes, it can, but ZIP method will only work when the Excel sheet's structure is being locked and you can only view the contents but not edit it.
Step 1. First you need to create a new copy for your protected excel file by pressing Ctrl + C.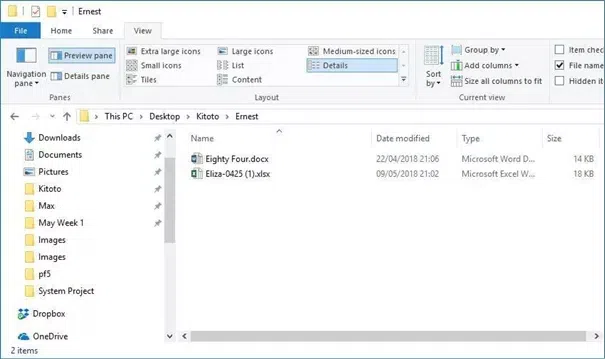 Step 2. You need to change your Excel file into a ZIP folder, right click your password protected Excl file and select Rename option,change the file extension from .xlsx to zip format. Press Enter button and then click Yes when prompted.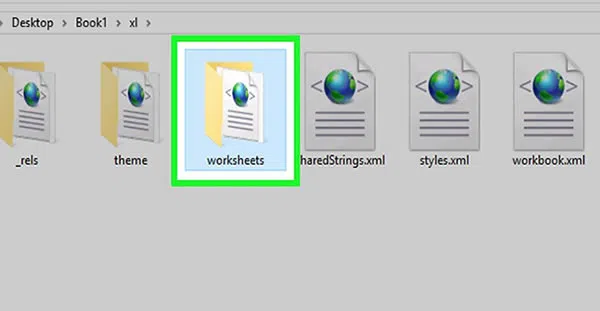 Step 3. Then use archiving software like ZIP or WinZIP or 7ZIP toolt o extract your newly crated ZIP file. After extracted, you should see a folder named as "xl" and  double-click this folder. A Wordsheet file will be appeared, then open it with Notepad.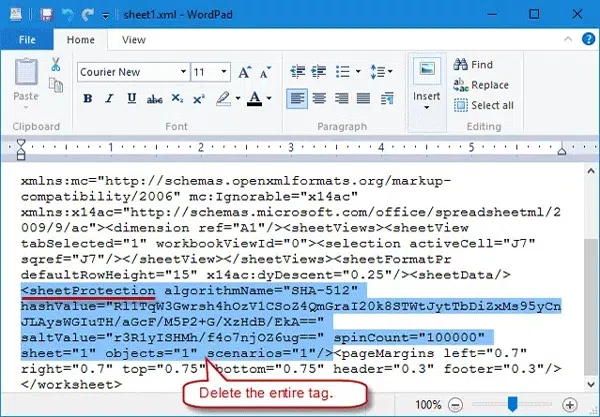 Step 4. Now, you need to locate and find the "sheetProtection" section that's inside the "< >" brackets, then delete everything from "sheetProtection" to the closed bracket". Save it by pressing Ctrl + S simultaneously then close Excel file.
Step 5. Try to open your Excel file and check if the password was removed successfully, if you get the error messages, means that Excel sheet is damaged, you may delete extra code in the Step 4. just repeat the above steps.
Method #4: Unlock A Password Protected Excle File Online
When it comes to using online tools, you first need to check a stable internet connection so as to prevent any intermittent obstruction on the task. It cannot crack lengthy complicated passwords and the method is not safe because you need to upload your personal Excel file to their server and can result in data theft. Once you have set a stable connection through Wi-fi, start reading the steps below:
Step 1. Open the online site.
Step 2. Now on the screen, you will see an option "Drop file to upload or click here". So you can either drag your target locked file into the web screen, or you can browse from your computer directory to load it on the online platform.
Step 3. As soon as the file is uploaded, the password recovery process will begin immediately without your asking. You can see the recovery process by the progress bar shown on screen.
Step 4. Let the tool do its work, when it is finished, the cracked password is shown on screen.
Step 5. Note it down somewhere or you can directly use it to open the locked excel file.
Conclusion:
Please remember that it is very difficult to recover the password of locked Excel file, but yet PassCue Excel Password Recovery can do it with 86% guarantee. Even though the tool is there to help you out every time you lose your password, but still prefer to keep a track of all your passwords in a notebook or cloud server at least. That will make it easier for you to get back your lost passwords.