So if you have a huge list of data that you need to securely and safely transfer to another user, then Excel file format is the best systematic way to organize such data. Excel files can be used to organize names, addresses, data of births, author names, websites and their respective username and password lists, graphical and bar graph representation of statistical measures and peaks. In short, an entire project can be summarized within an Excel file, and since it holds so much importance on an overall basis, it is often found encrypted with passwords. But we cannot assure you that you will have the password in possession, or if you have set a password yourself, the likelihood of losing it cannot be taken for granted also.
Thus this article will help you prepare yourself ahead of time to deal with situations when you lose hold of your Excel file passwords
Method #1: Remove Password Protection from Excel using Online Tool
If you are familiar with handling tools, then online tools comes quite handy. No humdrum of downloading and installing with keys, just visit the particular site and use it thereupon directly to do your password removal or recovery job.
Step 1. Visit the website and click on "Drop file or click here" button to upload the target file onto website page.
Step 2. As soon as the file uploading is finished, the password recovery process begins.
Step 3. There will be a waiting for few minutes, and the recovered password will be shown just on screen.
Step 4. Use this cracked password to unlock your Excel file, and now you can disable the password feature from inside of the file.
Cons:
1) Exposing your important files to online platforms makes the file contents more vulnerable to exploitation by various scamming groups and hackers.
2) Intermittent internet connectivity might interrupt the smooth password recovery process.
Method #2: Remove Excel Open Password and Workbook Passowrd
Like the previous offline tool, this one is also an offline tool, but it offers wider range of recovery modes, that is Smart and Mask attack types along with Dictionary and traditional Brute Force attack. This PassCue Excel Password Recovery can remove all kind Excel password like file open password, Workbook password, worksheet password, read-only protection, print protection in any Windows and Mac OS environment. The unique algorithm mechanism make it very easy and fast to remove Excel protection without touching the original data. This program added the new GPU algorithm which speeds up the password recovery for 10 X faster.
What's worth mentioning is the program could serves you with excellent method of mask attack that that superbly and quickly recover forgotten Excel password based on the given password rang. During recovery process, it never touch the internal Excel database, and give you a complete Excel files with all data in it. This Excel password remover tool is capable to supports all Excel file versions included 2003, 2007, 2010, 2013 and 2016 and windows versions.
Part 1: Recover Open Password
Step 1. Download the tool from above and install on a computer (Windows and Mac version all available ), then launch it with administrator.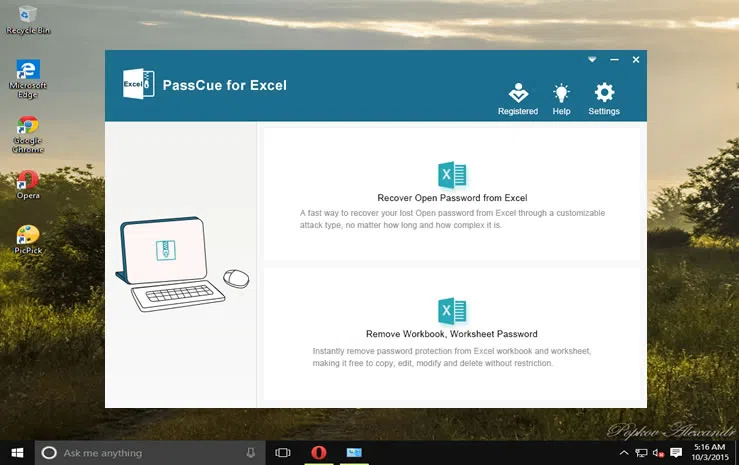 Step 2. When the tool interface turns up with all the features, go first to toolbar section and click on "Add" button to search and load the locked xlsx. file.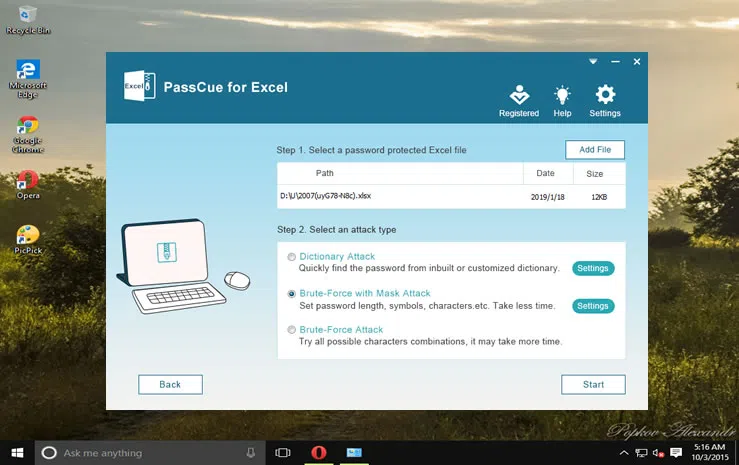 Choose the attack type from the 3 options available and add the password information, like no. of characters, length, range etc. to enhance the cracking success rate.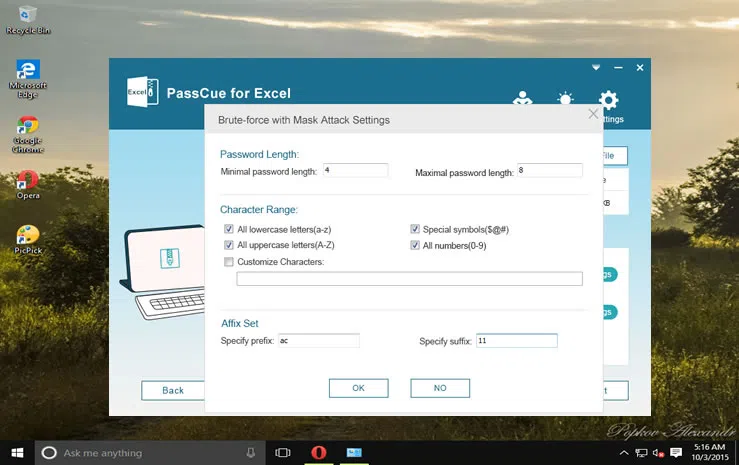 Step 3. After you have set all parameters in position, click on "Start" button. In a flash of few time, the password will be shown cracked on the screen.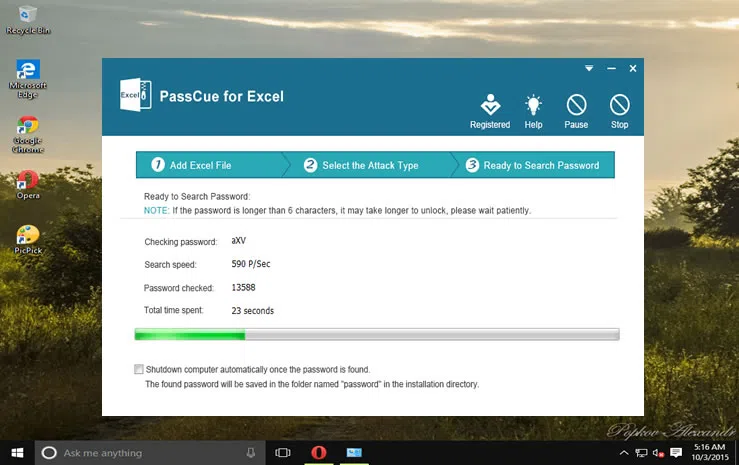 Step 4. Once the password was found, it will pup up a Window with showing your original password, just click Copy button to copy it and open your Excel document.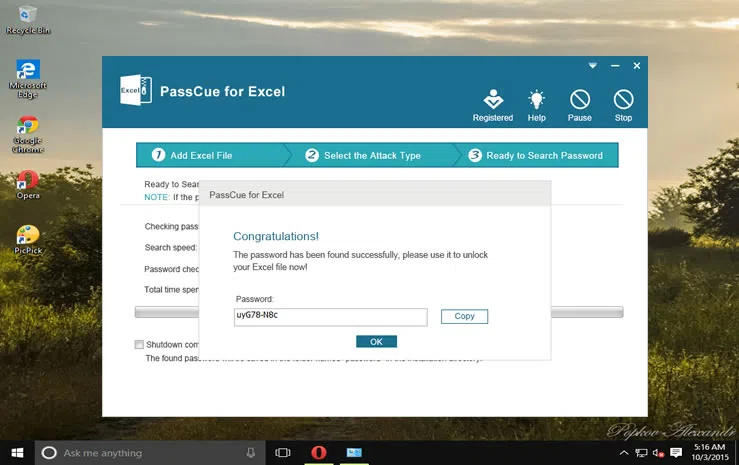 Use the found password to unlock the desired Excel file. And deactivate the password facility using MS Excel program.
Part 2: Remove Excel Workbook Password
If you're locked out of Excel workbook password, don't worry,this program also can instantly remove password protection from Excel workbook without losing data.
Step 1. choose the option 2: Remove owner password from Excel, then click Add button to import all of your locked Excel file.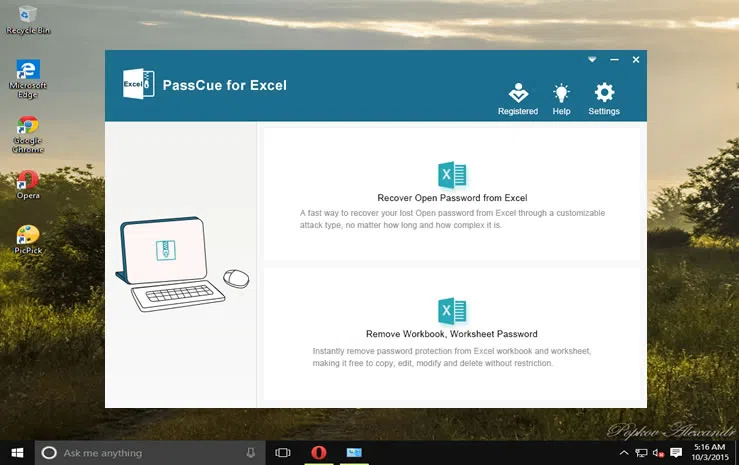 Step 2. After adding Excel file, just choose which file you want to remove workbook password, then click the Start button to begin. Don't worry to specify a location to save your Excel file.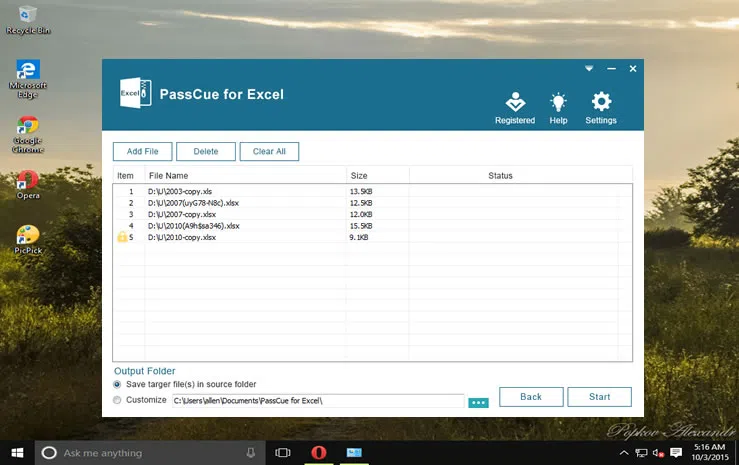 Method #3: Remove Excel Workbook Passowrd with knowing Password
Workbook protection generally helps you to protect your file from any unauthorized modifications like creating or renaming a new worksheet. It will maintain the privacy as well as will let any other user to read the document. If your know the workbook password, then it's very easy to remove workbook password protection.
Step 1. Click the protect workbook under the "Review" tab, then type the password on the poping up Window.
Step 2. If your know the workbook password, then it's very easy to remove workbook password protection. If you forgot Excel workbook password, then you can go to the Method 2 to remove the own password on Excel.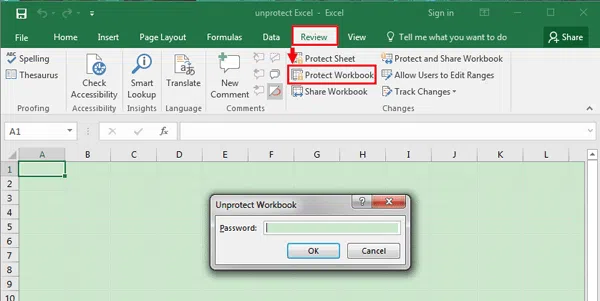 Before you start following any one of these methods, search for the password in your daily notepad and Google drives and cloud servers, you never know if you had noted it down somewhere for situations like these. But if that search fails your purpose, turn to the methods mentioned above and from th next time onwards, be cautious about setting password patterns. Keep it simple, direct and apprehensive.