Well, the topic has got nothing to do with unethical hacking, but rather ethical resetting to your own Windows computer or laptop when you forget or lose local user or admin password on Windows 10, so it is completely legitimate. So why do you forget an admin password? A very common question you must ask yourself to stop repeating the same mistake again and again. There could be a variety of reasons ascribing to this condition, for instance, you use too many admin or local user accounts protected with passwords, thus keeping track of so many password combination muddles your mind to forget it; or you are using the account after a very long time and you do not have niche of noting down any of your passwords.
If you do not have local administrator password then you will not have permissions to access to all files on that computer. So now the real question is how to reset local user or admin account password on Windows 10. There are plenty of serious tool usage methods and few manual methods.
Method #1: Reset Local Account Password Windows 10 using Hash Suite
Hash Suite is a very famous password recovery with distinguished features. For instance, it not only recovers Windows Password, but also for different file formats, like PDF, RAR, ZIP, etc. It can be used with literally any Windows OS so need to worry about it versatility. But before you download this tool to your target computer, enter that computer using any alternate admin account and distill out password hashes from SAM file hives.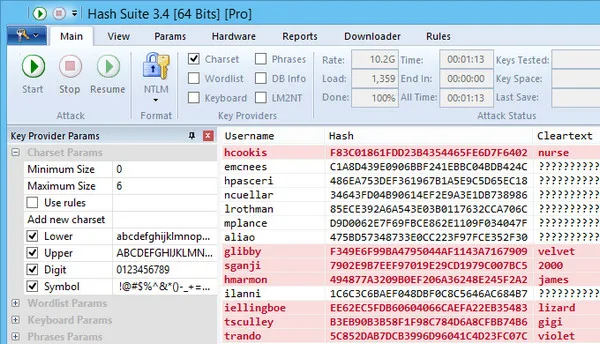 Step 1. Now using this very same alternate account, download the tool and install it. Run it with admin privileges and from the tool interface click on "Local Accounts" to begin importing the password hashes, which got extracted to the tool platform.
Step 2. Use either Brute force attack or Dictionary attack depending upon your residual memory of the password, and fill up all the necessary details asked on screen to recover the password.
Step 3. It will not take much time before the cracked password will be displayed before you, so be sure to note it down this time and login your previous admin account with it.
Method #2: Reset Local User/Admin Password on Windows 10 using Passcue
This is one of the last aces of our trial deck which will most certainly not let you down. PassCue Windows Password Recovery is a very advanced Windows Password resetting tool in which you don't need posses multiple admin accounts like in the case hash suite and nor do you need to have any special computer skills. It provides in-built ISO burner application which make it possible to boot your locked PC from USB drive or DVD/CD and slightly works in Windows PE without overwriting your original OS and files. Once your computer boots from USB drive successfully, then it will detect all local user or admin account in a SAM file, then reset local admin password to blank. After you reboot your locked computer and you will find you can directly access to desktop without password prompting.
It has got affirmative support to all Windows OS versions, with no declination towards any particular hard disk or file system. Both USB and CD/DVD can be used with this tool to boot your locked computer.
Step 1

Download and Install It on Another Working Computer

Take a separate working Windows or Mac computer and download the tool to it. After normal installation, launch it and you will see the main interface like below.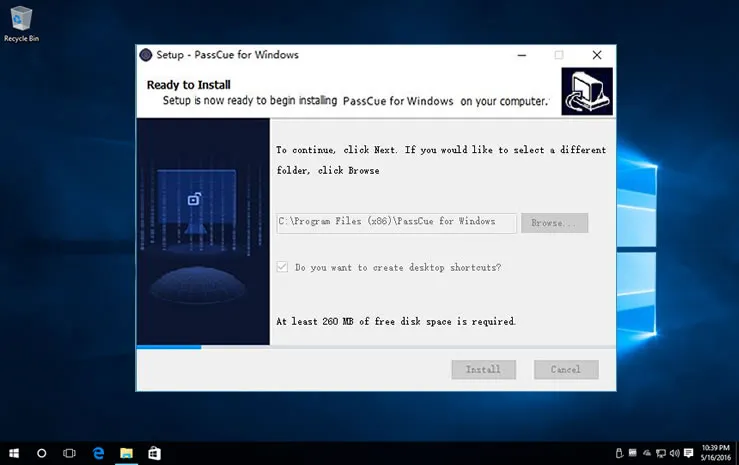 Step 2

Make a Bootable Reset Disk using USB Drive or DVD/CD

After normal installation, you need to create a bootable drive using either "Burn USB" or "Burn CD/DVD" option. It will take a few minutes to completely burning process and don't disconnect your USB to PC during the burning.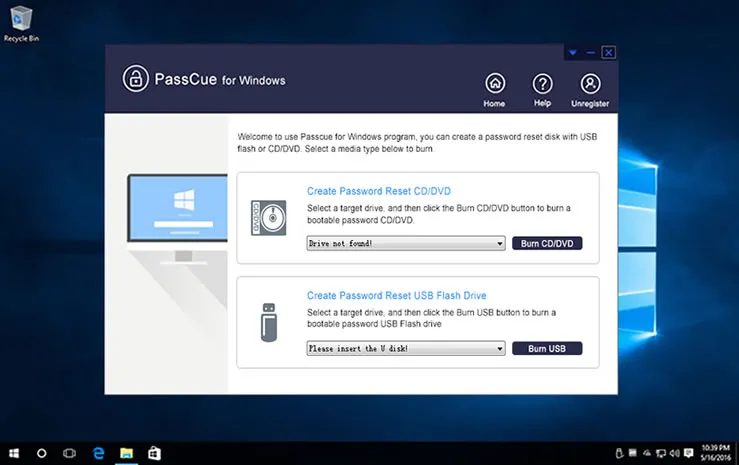 NOTE: Your USB drive will be formatted before burning, please make sure you've backed up your USB data then continue.
Step 3

Set Your Locked PC Boot from USB Drive or DVD

Implement this USB reset disk to boot your target computer and in the general pace of action, alter the boot order in the BIOS utility page to load USB reset disk. Just repeatedly press the certain keys like Del key, or F2 or F11 to enter the BIOS settings. In the tab "Boot" list choose your optical disk as the priority device, then save and reboot.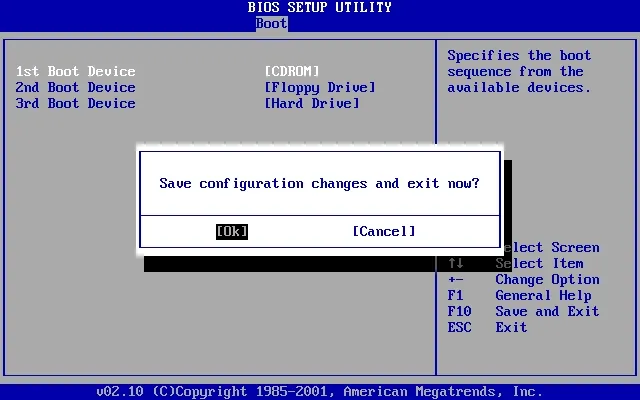 Step 4

Start to Reset Local User or Admin Password to Blank

The loading will come to an end by showing all the registered user accounts before you. Choose justly the locked one, and click "Reset Password" and "Reboot" buttons both, one after the other.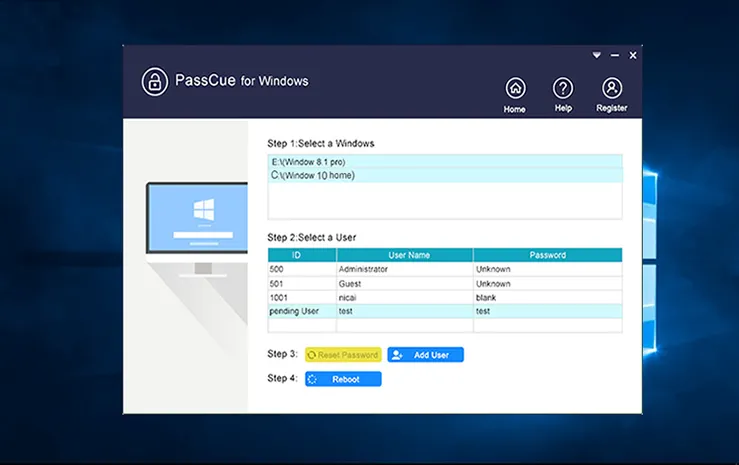 These two last buttons are the precursor of password eradication process which will not take much time, but would settle you down with your unlocked account in a minute or two.
Part 3 : Reset Loal Admin Password on Windows 10 with Ubuntu Disc
If you have lost your Windows 10 disc and you are not in a state to lose all your data through formatting, then creating an Ubuntu bootable live disc with Ubuntu setup files is the only viable solution left to you now currently. To boot your locked computer using this Ubuntu live disc, follow the step instructions given below:
Step 1. Visit the official Ubuntu website and download Ubuntu desktop ISO file free version to any other accessible computer.
Step 2. Burn the files to an empty disc and use this very disc to boot your locked computer.
Step 3. It will take some time to load the files, and once the Ubuntu welcome screen turns up, click on "Try Ubuntu" option.
Step 4. Go to "System Settings", choose "Software and Updates" option and a new Window will come to forefront. Here you have to check the "Community maintained free and open source software" checkbox and exit the Window.
Step 5. Next select "Reload" option and enter the command shown below:
sudo apt-get install chntpw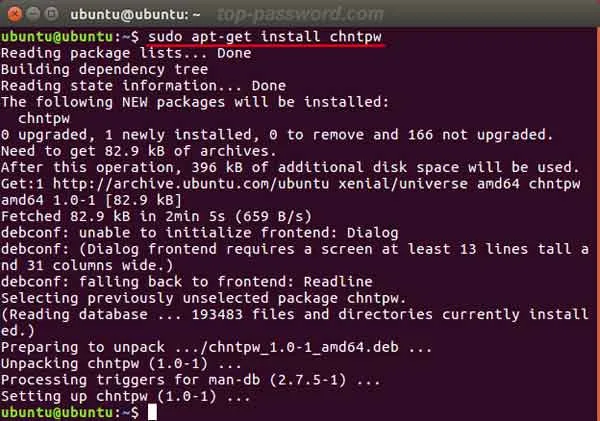 Step 6. Next follow the pathway Windows\System32\Config to reach the section of the computer where your Windows OS is stored.
Step 7. Here right click on any barren space and click on "Open in terminal" option off the sub-menu that appears.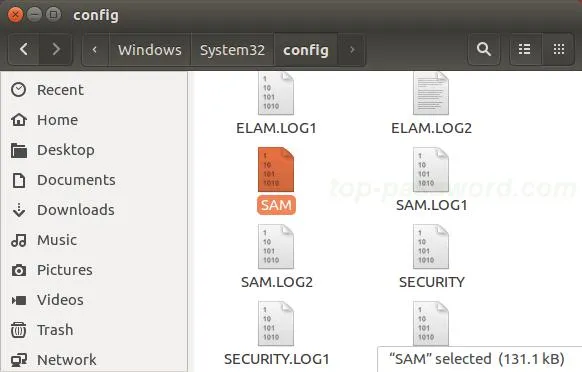 Step 8. The terminal box would emerge immediately and you have to input the following commands one after another hitting "Enter" key after every line of command: chntpw -l SAM chntpw -u user_name SAM Now type the keys prescribed below and press "Enter" after each key you input: "1" "Q" "Y"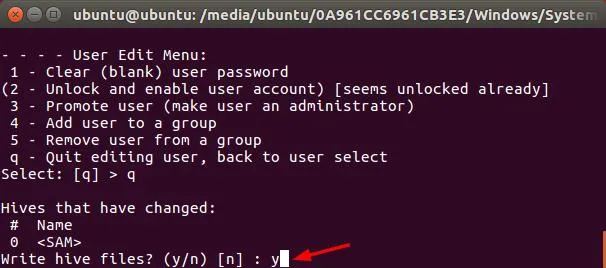 Now it's time to restart your computer to apply for the changes you just adjusted, and luckily when you sign in to your locked account this time, you will find no password restriction anymore.
Final Words:
Factory resetting procedure is very easy but at the cost of losing your valuable belongings, whereas using Hash Suite will require you to possess multiple accounts. Only PassCue for Windows program is fully capable to reset local admin password on Windows 10 without any of these technical humdrums. So if you wish to get your output in a convenient way and safest way, Passcue would be you the best choice of all times. After you gain access and set a new password, don't forget to note it down for any dreading future predicaments.