PDF or Portable Document Format was developed by Adobe with the main intention of providing top-notch security to documents and protecting them from unauthorized usage. But the main problem arose when people started forgetting the password while juggling with the credentials of multiple documents. This led to the requirement of PDF Unlocker tools and that is exactly what we are going to talk about today.
Before learning how to choose the PDF unlocker software, you'd better have to do some research on PDF encryption mode. Adobe give you ability to encrypt and decrypt documents within two modes: Open password and permission password.
Open Password: Also names User password, that limits access to a PDF. If a PDF is encrypted with Open password, its contents become unreadable and user must enter the right password before the PDF can be opened and viewed in PDF reader.
Owner Password: Also names permission password, which can limit access to a PDF by restricting certain features, such as printing, editing, copying and modifying. If a PDF is encrypted by Owner password, Recipients can open and view the content in PDF but can't change anything.
Top #1: SmallPDF (Online)
This web-based PDF unlocker tool can serve as your ultimate choice if you wish to perform basic PDF functions without cluttering your system with any bulky software. SmallPDF comes packed with 17 different PDF tools which can help you with various functionalities such as splitting, converting, compressing, merging, deleting, rotating, protecting, e-signing and unlocking PDF documents. Such attributes make it the perfect choice for people who use PDFs regularly. SmallPDF makes use of 256-bit SSL encryption in all file transfers to add up to the security meter especially while dealing with sensitive information. To make things better, the files also get deleted automatically from the servers following every single file transfer. When it comes to removing PDF password, it's easy drag and drop mechanism can help you proceed with the same without having to break any sweat. All you need to do is just confirm that you are the authorized owner of the file and subsequently click on 'Unlock PDF' to initiate the decryption process.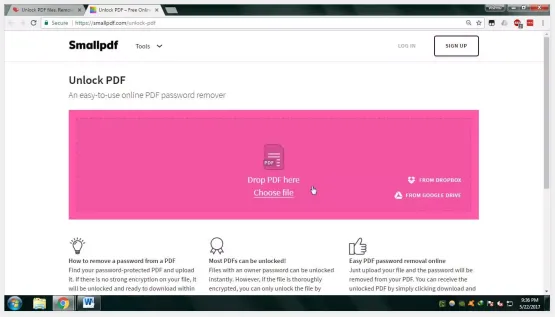 Pros::
1) Free to remove PDF password easily.
2) Supports PDF owner password.
3) Works with PDF files encrypted with 256-bit AES.
CONS:
1) It's too slowly to crack open password.
2) Need to upload your PDF to their service which there is a risk to your data.
3) It can't batch process the PDF files.
Top #2: PassCue for PDF
You can't open or change anything to a protected PDF files if you don't have a permission or owner password. You need to first remove the protection form PDF file so that you can use it without restriction . PassCue for PDF is the one of the best PDF unlocker software that can not only recovers PDF passwords or instantly removing all restrictions of PDF editing, copying or printing. This program provides you three different attack modes: The first one is 'Brute-force Attack' which can serve you well if you don't remember anything at all about the last password. This method is comparatively longer than the other two methods. Next in line comes 'Brute-force with Mask Attack' which is ideal if you remember at least some details about your last password pertaining either to the password range, password length, suffix, prefix etc. Last but not the least comes 'Dictionary Attack' wherein you will be required to list down the possible passwords which shall be tried out by the PDF recovery tool in a pre-arranged listing. The GPU acceleration make the recovery speed increased 30 times. It's a safe program since it causes no alteration or changes to the original PDF files.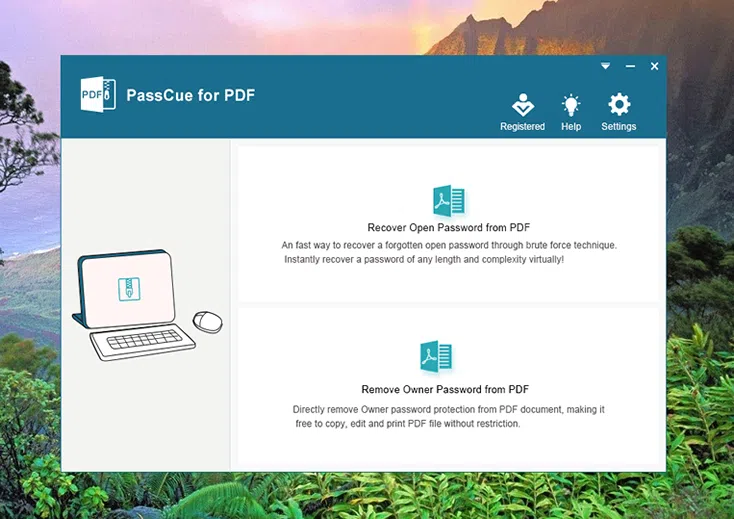 Pros::
1) Unlock PDF file which is encrypted with Open password and Permission password.
2) Instantly remove PDF restrictions for editing, printing and copying.
3) 3 recovery modes: Dictionary, mask and brute-force attacks.
4) Supports different encryption levels : 40-bit, 128-bit RC4, 128-bit AES, 256-bit RC4,&256-bit AES.
5) Support multi-core CPU processing and GPU acceleration, 30X faster.
6) Process single or multiple PDF files at a time.
CONS:
1) Isn't portable (you have to install it)
2) Doesn't work in Windows server.
3) The application UI is in English only.
Top #3: PDF Unlocker 2.0
PDF Unlocker 2.0 is a free software but it is indeed a outstanding PDF password recovery program, it can recover open password from PDF but can't remove restrictions on any PDF document. It also use a brute-force password recovery method to crack your open password. It fully supports all PDF file with 256-bit AES or 128-bit RC4 encryption. Once the PDF is unlocked, then you can open it in any PDF reader without any restriction, so you can freely to edit, modify, copy and print.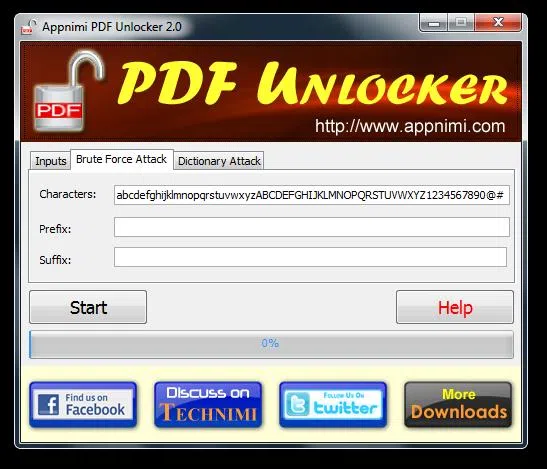 Pros::
1) Instantly Remove PDF Restrictions
2) Work with the PDF that protected with a strong 128-bit or 256-bit key.
CONS:
1) .NET Framework must be installed on your PC
2) Can't continue last search history.
3) some plugins will be installed in your PC automatically.
Top #4: QPDF
QPDF is also a command-line program like PDFCrack in the top 1, it can take all of the content-preserving transformations works including PDF encryption, conversion, linearization, rotating, merging and splitting PDF and more. QPDF can be said is the best PDF remover progarm since it recovers both open password and owner password from a password protected PDF file, it also can be run equally well in 2-bit and 64-bit versions of Windows 10, Windows 8, Windows 7, Windows Vista, and Windows XP , and decrypted a PDF file with 128-bit AES encryption in less than a second.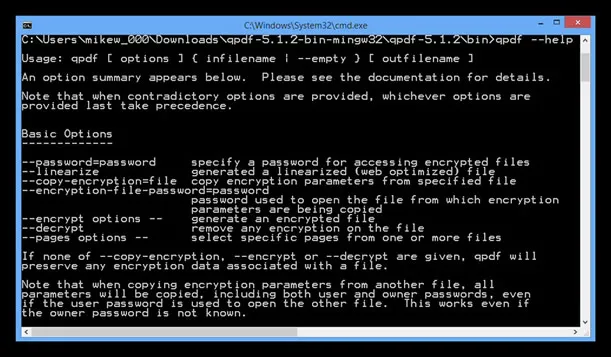 Pros::
1) Let you view and manipulate the structure of PDF documents.
2) Remove PDF owner password instantly.
3) Free
4) Includes a collection of advanced features and options.
CONS:
1) The program is not aimed at average users as it has no UI.
Top #5: PDFCrack
This free of cost PDF Unlocker tool can help with the recovery of both owner and user passwords from encrypted PDF files. It makes use of brute-force recovery method in decrypting the password so that you can readily access the document for seamlessly viewing, editing and copying. This command-line tool is compatible with both 32 and 64-bit versions of Windows 7, Vista and XP. Password cracking can be a long and tedious process. But PDFCrack can make the entire thing seem like cakewalk. It makes use of character combinations in a single threaded process which might seem to be pretty time consuming yet holistic in its approach. Irrespective of your setup, this PDF password unlocker tool makes use of just one CPU core so that the single CPU operates at its fullest potential throughout the entire cracking duration.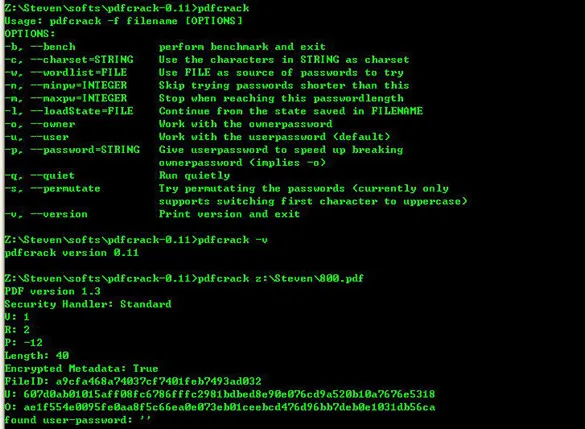 Pros::
1) Carries out optimised scan for owner-password if the user-password is known.
2) Completely portable password recovery tool having a self-explanatory interface.
3) Free
CONS:
1) The program is not aimed at average users as it has no UI.
Top #6: GuaPDF
Guaranteed PDF Decrypter operates with the main motive of removing restrictions from all secure PDF documents especially if you are the authorized owner but have somehow been locked out from the system. It is compatible with all Adobe Acrobat versions ranging up to X protected with 128-bit RC4 encryption. Once the PDFs are unlocked, they can be opened using any PDF viewer for hassle-free editing, printing or copying.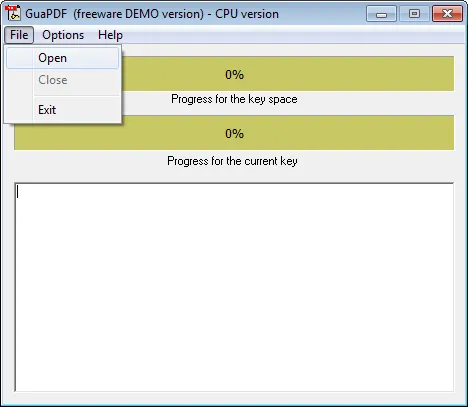 Pros::
1) Does not alter the authenticity of your PDF file in spite of decrypting the same. Even the size remains the same to minimize all chances of incompatibility.
2) Compatible with command-line utility for Linux, Mac OS X, Solaris, DOS and Windows operating systems.
3) Free
CONS:
1) Limited to 256-bit encryption
2) Not work for large PDFs
3) Only decrypt with PDF files up to version 1.7.
Write in the End:
PDF files are protected using passwords to prevent unauthorized viewing, editing, printing, content copying or similar other operations. But if you are the authorised owner of the document who has simply forgotten the password, then the tools listed above can come to your immediate rescue.