In the modern era of increasing digital theft, it is becoming necessary to password protect all your documents for preventing unauthorized usage. But think of a scenario where the authorized owner himself forgets the password and his access gets locked out from all the important documents. For example, PDF document, which is most  commonly used in business filed, and people like to set a open password or owner password to protect their PDF file containing sensitive information from unauthorized accessing, if you forgot the open password, you will be restricted from accessing and viewing. If you have faced a similar scenario lately, then you can try out any of best 6 PDF password remover tools listed out below. Each software  has its own advantages and drawbacks, just choose the best one you like.
Top #1: PDFCrack
PDFCrack is a GNU/Linux open source yet free PDF password remover and totally free to use. Be it user or owner passwords, this versatile password recovery tool can help you gain an edge over both of them. This command-line tool can be availed by Windows XP, Vista, 7 and 10 users working on both 32 and 64-bit versions, but can't run Mac OS X. It makes use of one CPU core at its topmost potential to crack your PDF open password. Character combinations used by PDFCrack in a single threaded process can provide a comprehensive solution to your password recovery woes. Like Passcue for PDF, it also guesses the password on PDF via dictionary attack and brute force attack. It's totally free and easy to use. Just type a simple command line and specify the PDF location, then it will start to recover your PDF password. But notice that you have to compile the source code with Cygwin when using PDFCrack in Windows platform.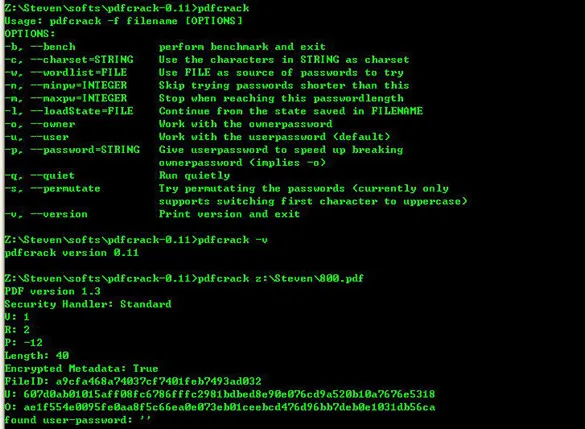 Pros::
1) Ensures fast pdf password recovery.
2) Supports unlocking both owner and user passwords.
3) Compatible with PDF file created by the latest versions of Acrobat.
CONS:
1) Doesn't support 256-bit AES encryption
2) command-line tool and no graphical user interface.
3) Hasn't been updated since 2010 any more.
Top #2: PassCue for PDF
Suppose you have set a complex password for your PDF document and simultaneously forget the same. PassCue for PDF comes to your rescue in such a scenario with three different password recovery modes, namely – Brute-force Attack, Brute-force with Mask Attack and Dictionary Attack. It provides two powerful feature: recover open password and remove owner password which lacks in other software. It supports batch processing so that you can deal with multiple PDFs at once. GPU acceleration improves the entire recovery speed even while multitasking.
For Open password, it can be able to  generate tens of thousands of consecutive password guesses to target PDF file, if there is a GPU embed in your PC, then cracking 6 password length only takes 2 hours, this is highest level ever in the filed.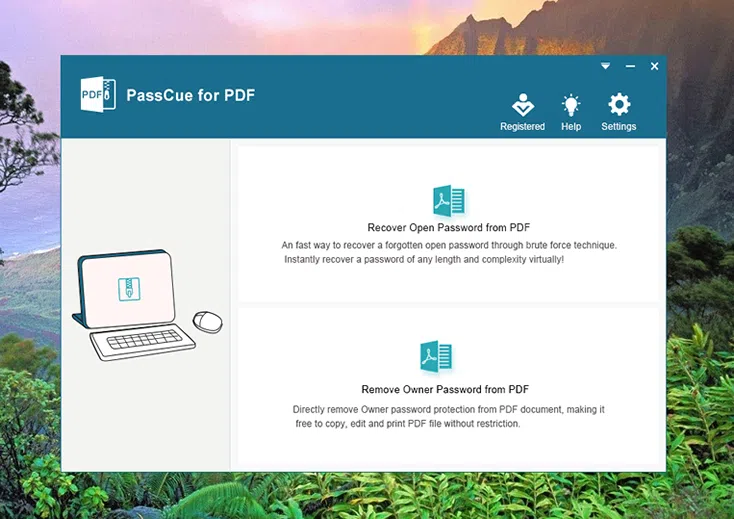 For permission password, it's much simpler and easier to remove. just 10 second, it can remove the permission password from 400 PDF files a time without crashed, then you can freely edit, copy, modify and print.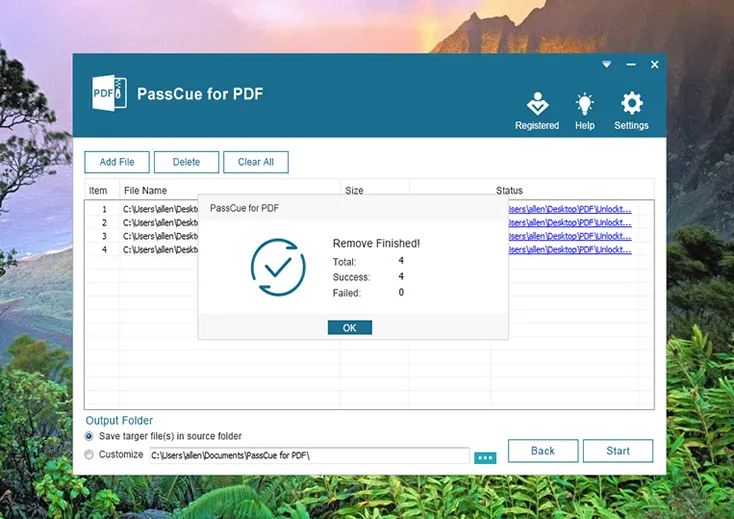 Pros::
1) support both open password and owner password.
2) Instantly remove PDF restrictions (editing, printing and copying)
3) Support multi-core CPU processing and GPU acceleration, 30X faster.
4) Fully support 40-bit, 128-bit and 256-bit with RC4 encryption or AES encryption.
5) Batch mode allow you to process 500 PDF files within 1 minutes.
6) 3 recovery modes: Dictionary, mask and brute-force attacks.
7) Support two platform: Windows and Mac OS X.
CONS:
1) Isn't portable (you have to install it)
2) Doesn't work in Windows server.
3) The application UI is in English only.
Top # 3. GuaPDF
This lightweight and free PDF password remover tool can remove the protection status of PDFs so that you can view, edit and even print the same. It's a great PDF password remover tool which can recover owner password from PDF that encrypted 40-bit algorithm. It won't  decrypt PDF files at higher levels of version 1.7 if the encryption is at 128-bit AES. GuaPDF does not have any installation pack and need to be stored on a storage device for directly running the executable file whenever necessary. I will recommend GUaPDF as your first consideration if your PDF file is encrypted with 40-bit AES, it can instantly remove the restrictions from PDF file, but if you need to recover open password, then try Passcue for PDF instead.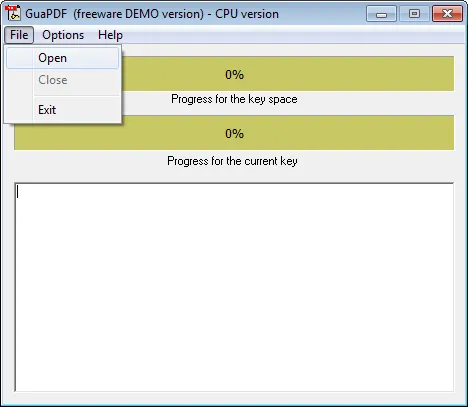 Pros::
1) Fast remove the restrictions regardless of password and encryption type used.
2) Support GPU acceleration on modern NVIDIA
3) Portability (DOS, Windows, Linux, Solaris, Mac OS X versions are available)
CONS:
1) Limited to 128-bit encryption
2) Not work for large PDFs
3) Only decrypt with PDF files up to version 1.7.
Top #4: SysTools PDF Remover
If you are on the lookout for a tool which can help you remove PDF document restrictions and recover open password in an easy way, this PDF password remover by SysTools can serve as your ideal choice. Whether it's a single file or multiple documents, you can cater to them both using its batch processing abilities. On removal of password, the PDF can be copied, printed and even edited. However, you will be required to proceed with either the Business or Enterprise version of the tool to enjoy batch processing. One of the best things about this password recovery software is that it maintains data integrity even while unlocking a PDF file. The original formatting stays intact along with all the necessary attachments. Once the PDF has been unlocked, you can specify the location for saving the same. While the software unlocks restricted PDF files, the current permission status of PDF files can be easily made out from the 'After' and 'Before' columns. You can also bank on this tool to remove PDF e-signing restrictions along with the password recovery.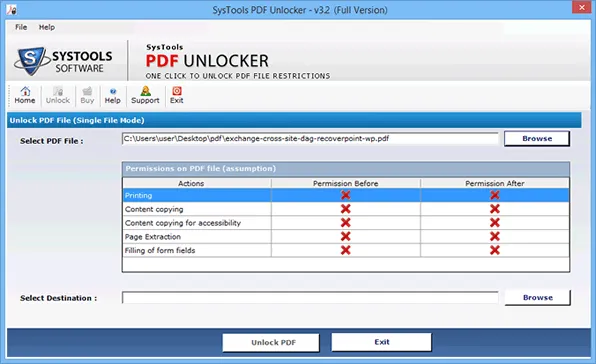 Pros::
1) PDF restrictions could be removed instantly.
2) Works with PDF files up to version 1.7 level 8 with 128-bit AES encryption.
3) Deal with single or batch documents.
CONS:
1) Trial version only allows you process 3 PDFs.
2) Doesn't support PDF open password.
3) Not decrypt PDF with 256-bit AES encryption.
4) No Mac version.
Top #5: BeCyPDFMetaEdit
BeCyPDFMetaEdit is a powerful freeware for Windows user that provides a collection of functions like edit, remove, merge and more. If you forgot the PDF permission password,then it can be able to remove passwords from encrypted PDF files without touching your PDF original content. Once you has installed BeCyPDFMetaEdit , just open the encrypted PDF file with it, then you have to select the option named "Complete rewrite", then the PDF password should be removed successfully while keeping all other data such as metadata of the PDF unchanged. In addition to password removal, it also allows you to edit any of metadata embedded in a PDF document, and you also allowed to add more information to the PDF file like keywords, bookmarks, page labels and more.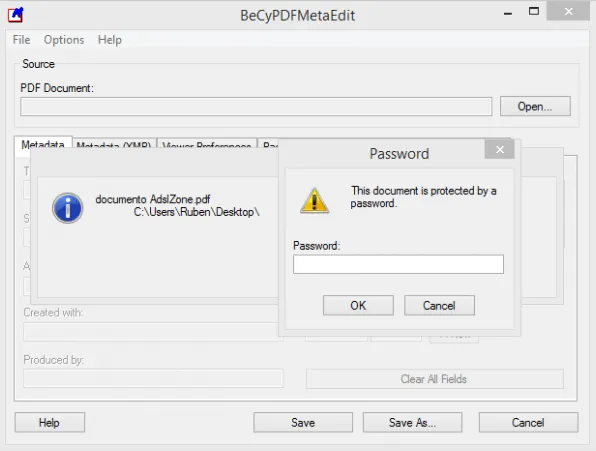 Pros::
1) Free to remove PDF password easily.
2) Supports PDF owner password.
3) Works with PDF files encrypted with 256-bit AES.
CONS:
1) It's too slowly to crack open password.
2) Need to upload your PDF to their service which there is a risk to your data.
3) It can't batch process the PDF files.
4) Doesn't work on Mac OS X.
Top #6: Sejda Unlock PDF Online
Sejda Unlock PDF is also web-based free PDF password remover service which can help remove owner and restrictions from secured PDF files! It support to recover Password for all versions of Adobe Acrobat up to v.9. All you need to do is just upload your encrypted PDF file by clicking the Upload button, once the PDF files is uploaded, it will start to recover your PDF password and the file will be processed in their server, so there is no need to download and install any software. Once the password is found, then you can download it within second without any restriction or watermark. And Your files will be deleted one hour after processing, so don't worry, your privacy is 100% protected. Since this is a browser-based web PDF remover tool, so you can use it on all different operating system like Windows, Linux, Mac and support all browsers like Chrome, Firefox, IE, and Safari.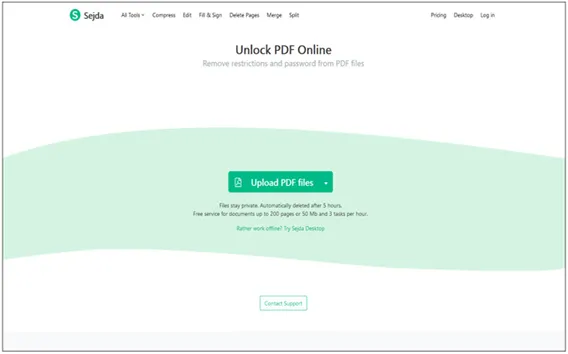 Pros::
1) Free to unlock PDF password online
2) Works with PDF files encrypted with 256-bit AES.
3) Works on all platform: Windows, Mac and Linux.
CONS:
1) There is a risk to your data as you need to upload your PDF to their server.
2) Can't batch process the PDF files.
Write in the End:
PDF password removers come in as a great blessing for users who have a tendency to forget their passwords. So, try them out today and don't forget to share your entire experience with us.